If you're as sick of regular old beef and bean chili as you are of winter weather, give the hearty stew one more chance. Just in time for National Chili Day on Feb. 28, 2019, this white bean turkey chili is bursting with all of my flavor besties: garlic, onion, jalapeño, cilantro and lime. Oh and did I mention cheese and beer!? Who knew such goodness could combine in one, warm-you-to-the-bones bowl.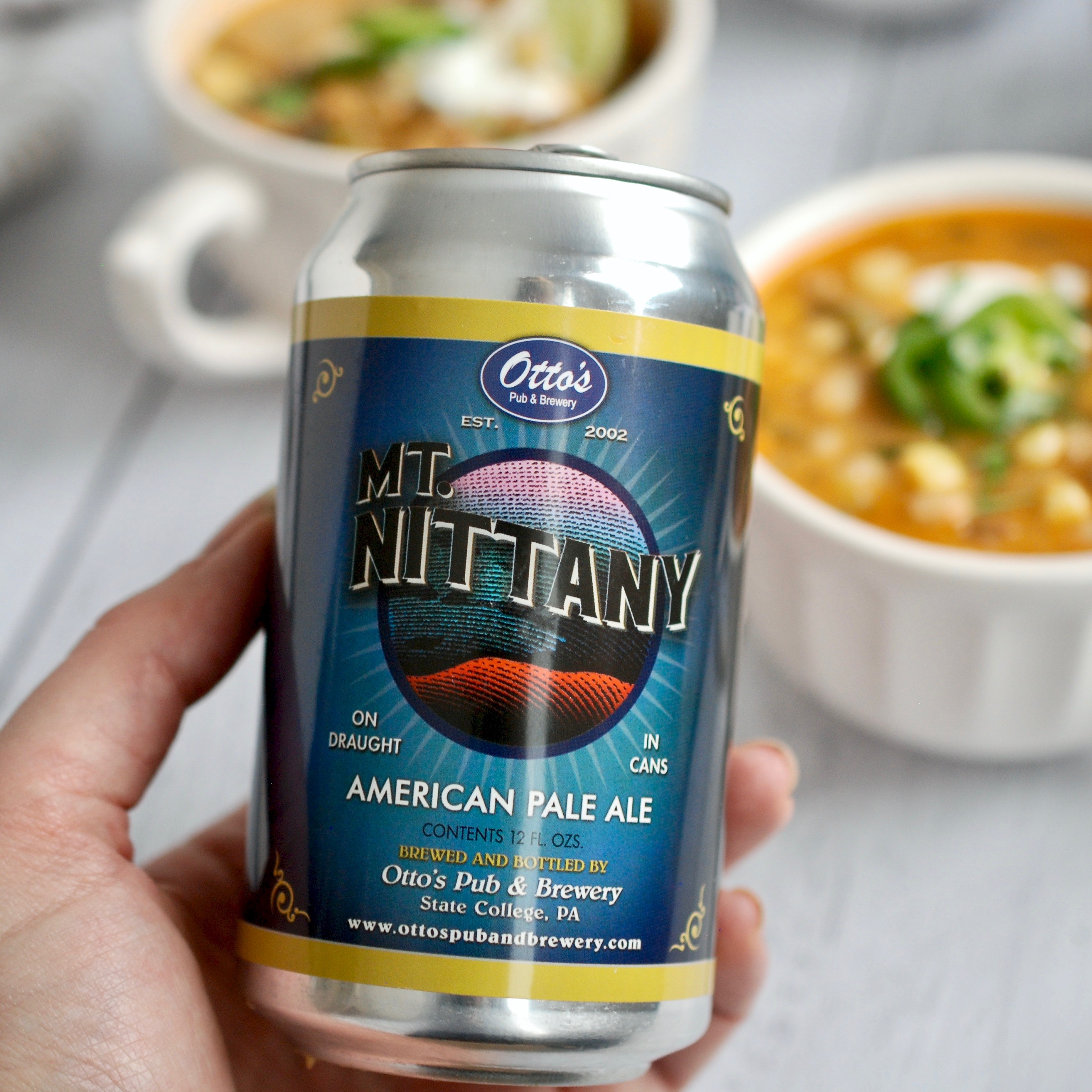 Consider this a friendly reminder to seek out and support local food sources when you can! I'd suggest you make this recipe now because it's just so needed in these dreary winter days, but also tuck it away in your recipe box for fall, when you'll be able to get local peppers, onions, garlic and even the last wave of summer corn! Otto's Mount Nittany Pale Ale is always in season, so we all win.
Back to the recipe: Try not to be intimidated by the long ingredient list—you probably have a lot of this stuff on hand already! It might not be a true white chili, because I added chili powder, smoked paprika and cayenne (which are to blame for the orange hue of this soup), but what can I say, I guess I've always been a bit of a rebel! It just seems to me that all chili comes with an unspoken invitation to make it how you want it.
And this one is no exception! I strongly encourage you to take this recipe—any recipe, really—and make it your own.
Want a thicker white chili?

Reduce the broth or thicken with a cornstarch/water slurry. Add extra beans.

Want less turkey?

Use one pound instead of two.

Prefer chicken?

Use ground or shredded chicken instead.

Want a creamier chili?

Add more sour cream or some heavy cream.

Want to spice things up?

Add extra poblanos, jalapeños and cayenne.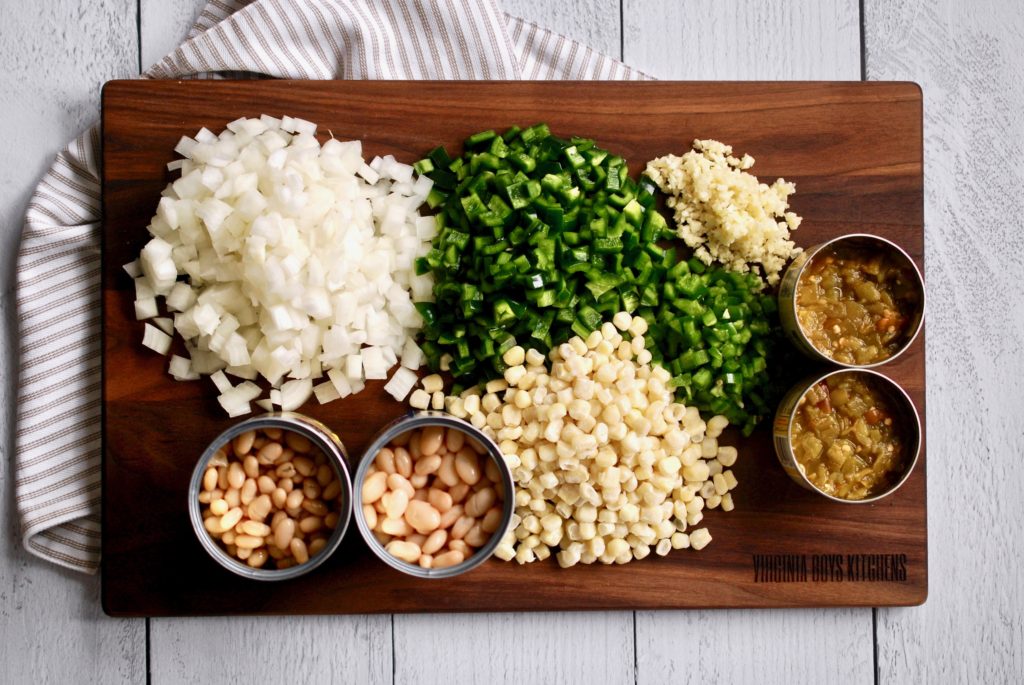 I think you will love this recipe because:
It's comfort food at its finest.

It features all of my favorite Mexican flavors—Baja, anyone?

The texture is soupy yet hearty at the same time, thanks to pureed white beans, sour cream and colby jack cheese mixed right in with chicken stock and a can of beer!
---
White Bean Turkey Chili with Lime & Cilantro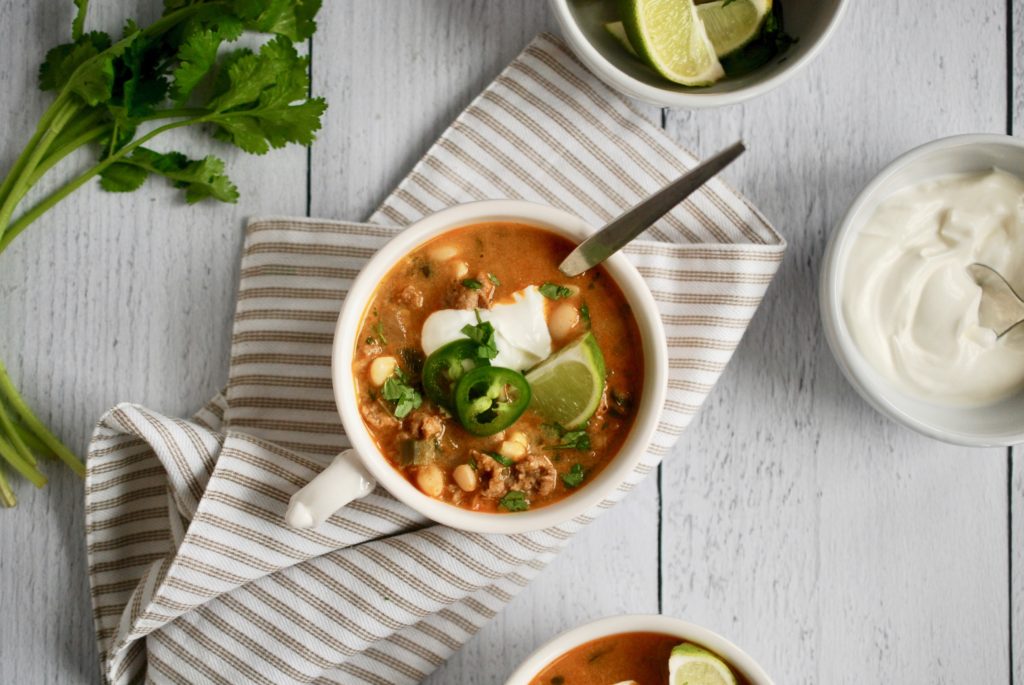 MAKES: A BIG POT (8-10 servings) // TIME: 45 min
Ingredients
2 Tbsp. olive oil
1 large sweet onion
2 poblano or green bell peppers, de-seeded and finely chopped
2 jalapeño peppers, finely chopped (with or without seeds)
5 cloves garlic, finely minced
1-2 lbs. ground turkey
1 Tbsp. ground cumin
1 Tbsp. chili powder
2 tsp. smoked paprika
2 tsp. salt
1 tsp. black pepper
1/2 tsp. coriander
1/2 tsp. ground cinnamon
2 15-oz. cans great northern beans
2 15-oz. cans cannellini beans
2 4-oz. cans diced green chiles
4-6 c. chicken stock
12 oz. beer, I used Otto's Mount Nittany Pale Ale
2 c. frozen white sweet corn
1/2 c. sour cream
1 c. grated colby jack cheese
juice of 2 limes
fresh cilantro (optional)
Toppings: fresh cilantro, sour cream, cheese, jalapeño slices, tortilla chips
Instructions
Heat 2 Tbsp. olive oil in a large pot over medium-high heat.

Add onion, poblano peppers, jalapeños and garlic. Cook for 5 minutes.

Push the veggies to the side and add the ground turkey into the pot. Season with all of the spices (cumin, chili powder, smoked paprika, salt, pepper, coriander, cinnamon) and break up the turkey as it cooks. Once the turkey is mostly cooked, combine it with the veggies in the pan.

Drain and rinse the great northern and cannellini beans. Separate out half of them and mash them well in a bowl or puree with an immersion blender or food processor.

Add the drained beans and pureed beans into the pot along with the diced green chiles, 4 cups of chicken stock and 1 can of beer.

Bring the pot up to a nice rolling boil, then reduce to a simmer and let it cook for 15 minutes. If you want it to be thinner, add another cup of broth at this point.

In the last 5 minutes, stir in the frozen corn, sour cream, cheese and lime juice.

If cilantro is your thing, chop up a handful of fresh and throw it in as well.

Serve and garnish with sour cream, lime, jalapeño slices, and a sprinkle of cheese. Bonus points for tortilla chips!
---
Maria Barton is a food blogger based in Bellefonte, where she lives with her husband and dogs. Read more of her recipes at mariamakes.com and connect with her @mariamakesstuff on Instagram or on Facebook.