Though Chris Good can now be found scaling the tanks in the brewery at Happy Valley Brewing Company, his first introduction to the brewpub was from its stage downstairs. The State College native had a weekly gig when the place first opened, so landing the job as the new head brewer is a bit of a homecoming. For the past two years, he's been in two other valleys, working as an assistant at Elk Creek Cafe + Aleworks and taking a full course load in the inaugural class of the Brewing and Fermentation Science program at the Pennsylvania College of Technology in Williamsport.
He and five others are set to graduate from the program in May, but Good is already brewing at Happy Valley. On Wednesday, April 17, he'll introduce himself and his first beer, Springtail Summer Ale, to State College with brewery tours, meet the brewer and giveaways from 4-7 p.m., but first we caught up with him to talk about going to brewing school and what's in store for Happy Valley fans.
What drew you to brewing as a profession?
I've always had this interest in food and beverage, and I've always been pretty handy. I originally attended Penn State for electrical engineering, but that wasn't really for me at the time. I was a barista for awhile in the service industry, but I always kind of had this desire to do something more. My brother and I used to home brew a few years back, and I always thought that could be a career. But I never really knew a good way to kind of get involved [until applying to work at Elk Creek and enrolling in the Penn College program]. But brewing was really what I was looking for. It's very technical, very scientific, but it still has this creative aspect. It kind of played to both my strengths.
What was it like working with Tim Yarrington, brewmaster at Elk Creek and instructor in the brewing program?
It's intense and it's rigorous and he demands a lot. He has high standards, but at the same time he helps you reach those standards as well. He's been in the industry for 20-plus years now. He has all these experiences through working with various breweries and doing a bunch of consulting work and helping other breweries get started. He's kind of done it all, and having the industry experience is helpful because I know there's a lot of programs out there that courses are taught by chemists or taught by biologists, which is great, but having someone who knows how it applies in the actual industry is so invaluable. Every brewery is different but Tim prepared us very well in this program to approach any brewery and be able to understand what's going on and what should be going on.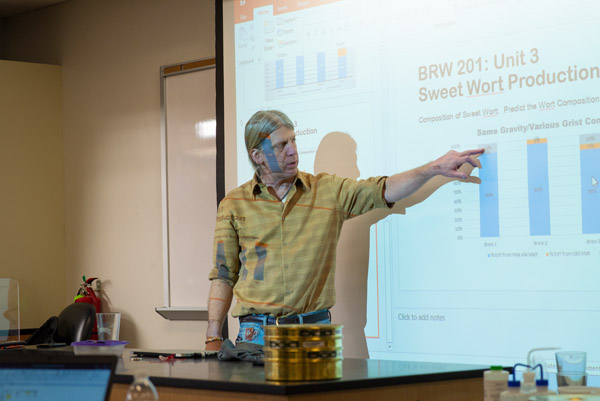 How much brewing happens in the program?
Part of the program is required internships, so all of us are graduating with some hands-on experience in a production brewery. Then we have our hands-on labs where we're taking recipes through full production, through peer review and analysis, and then we've actually rebrewed them for our capstone work.
My capstone is an Irish red ale which for anyone who's done some brewing they know that sometimes the more simple the beer, the harder it is to capture. There's nothing to hide behind, and red is a stinking hard color to try to brew. With the tools that Tim has given us and all of the knowledge we've learned, we can get pretty pretty darn close to what we hope to achieve. Having the this knowledge and this science background and the statistical data to back up our thoughts and our processes really pins down our recipes and beer making process. It saves us from making a lot of uneducated errors.
What's the first beer you made for Happy Valley, and what's on the horizon?
It's called the Springtail Summer Ale. It is a session summer ale. It's pretty light, around 4.3% ABV. It's pretty lightly hopped, kind of fruity, but super, super drinkable. This being the first beer I produced on the system, it was kind of a tester beer to see how the system would handle. I think that's important, to be able to cater to everybody. I think some places tend to overlook the common beer drinker, the Bud Light drinkers, the light beer drinkers. I think a lot of these craft breweries tend to tilt their nose at domestic beers but there's a reason that they're so widely sold and people want to drink them. And as a craft brewer you shouldn't try to push those drinkers away or turn them off, you should try to bring them in with something that is relatable to their palate.
But at the same time, it's also a craft brewery. It's fun to do some some wild and more adventurous things as well. Happy Valley has some established recipes and beers already in place that I'm taking and trying to put a little more of my stamp on it. I'm not going to change them entirely, but it might be a subtle shift, using my more scientific approach. I've worked on a few of those beers but yesterday I brewed a pretty heavy hitting, very malty IPA. That should be coming out in a couple weeks.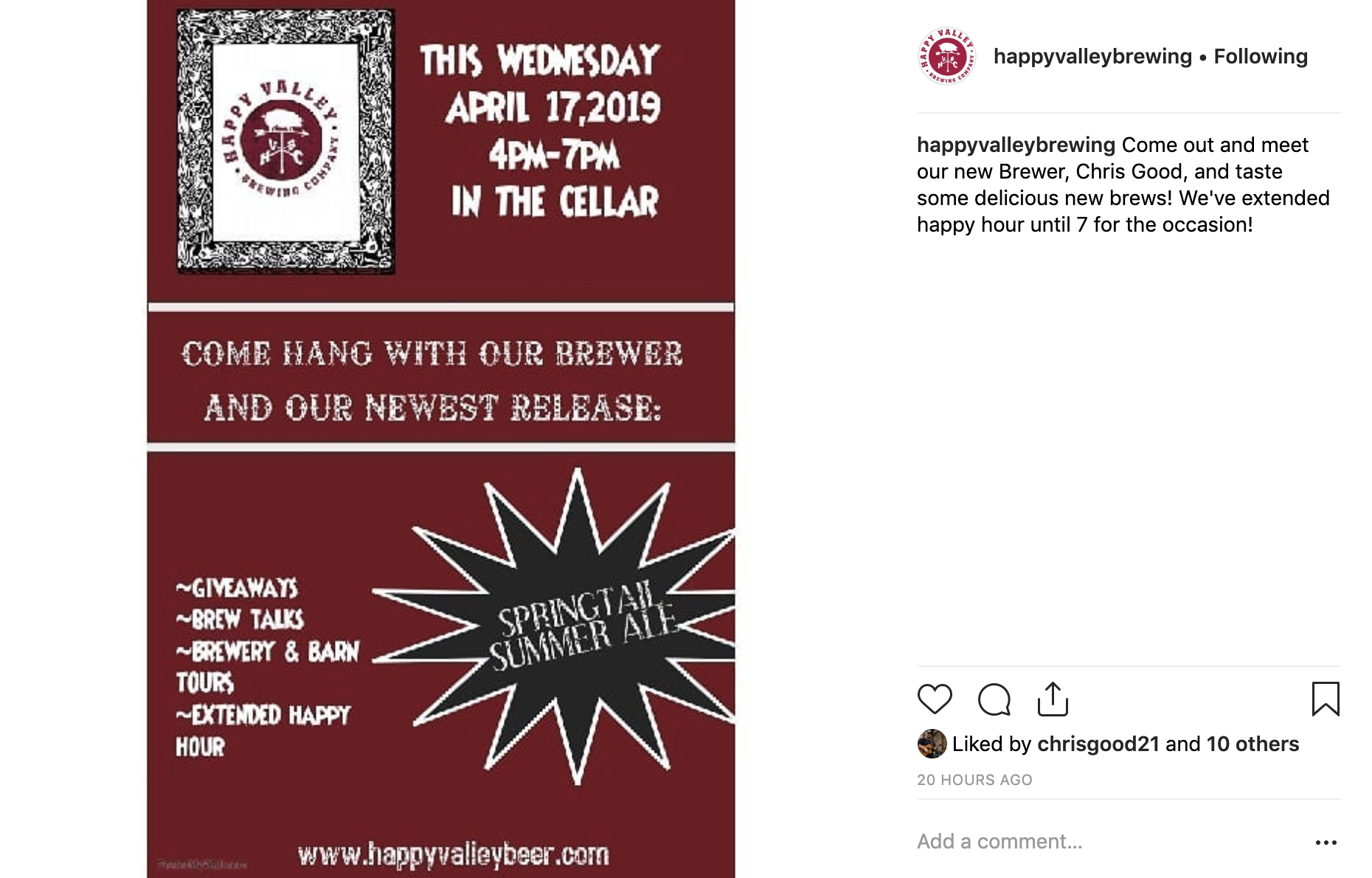 When I was brewing this Springtail Ale I didn't want people to just think I'm just brewing some frouffy light beers from now on. So I figured I'd come back with a bigger punch, throwing a pretty high gravity hefty malty IPA their way as well. So it'll will be fun to see how people take to it because it's definitely a bit of a different path than Happy Valley currently is on.
What's your favorite beer to drink and your favorite beer to brew?
It's funny because before going through the whole brewing program, I was more on the lines of the crazier, the funkier, the better. But after going through the program and doing the analysis and doing the evaluations, I find that being able to do a simple beer really well is far more enjoyable.
I guess it really depends on the season because it changes. So like in the summer months, I want to be drinking something crisp and clean like a Kolsch or a Pilsner.
I'm looking forward to playing around with some flavors that I haven't got to brew yet. I'm excited to put my spin on some sours or fruit beers or maybe some Belgians depending on the season.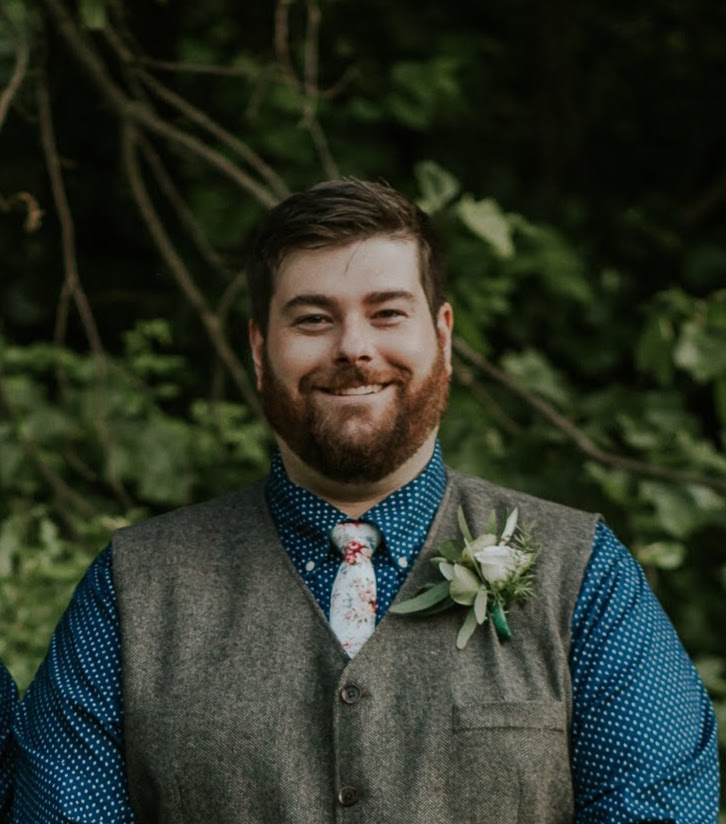 What are some other Pennsylvania breweries you're into these days?
Of course I always want to support our local hometown breweries because whenever one is doing well, it benefits everyone. Otto's Pub & Brewery does amazing stuff. They've got their brand and their loyalties and their beer down. At Robin Hood Brewing Co., Chris Schell does some interesting, fun, creative things. He's got some crazy stuff cooking up all the time. And I have a lot of love and loyalty for Elk Creek Cafe + Aleworks. This area has a lot of cool stuff, and I want to foster some more brewery friendships.
What's up and coming in the beer world that you're excited about?
Currently the new thing is the brut IPA. You add an enzyme to your mash or your fermenter and it converts more complex carbs that normally wouldn't be fermentable into fermentable sugars so it becomes really really dry. Then hazy thing — I don't think that's going away any time soon. It's different style of brewing entirely. I mean, for centuries the whole goal was to get clear, crips beer, and now it's kind of turned it on its head. I'm looking forward to exploring that and a whole bunch of sours.