Hoppy Trails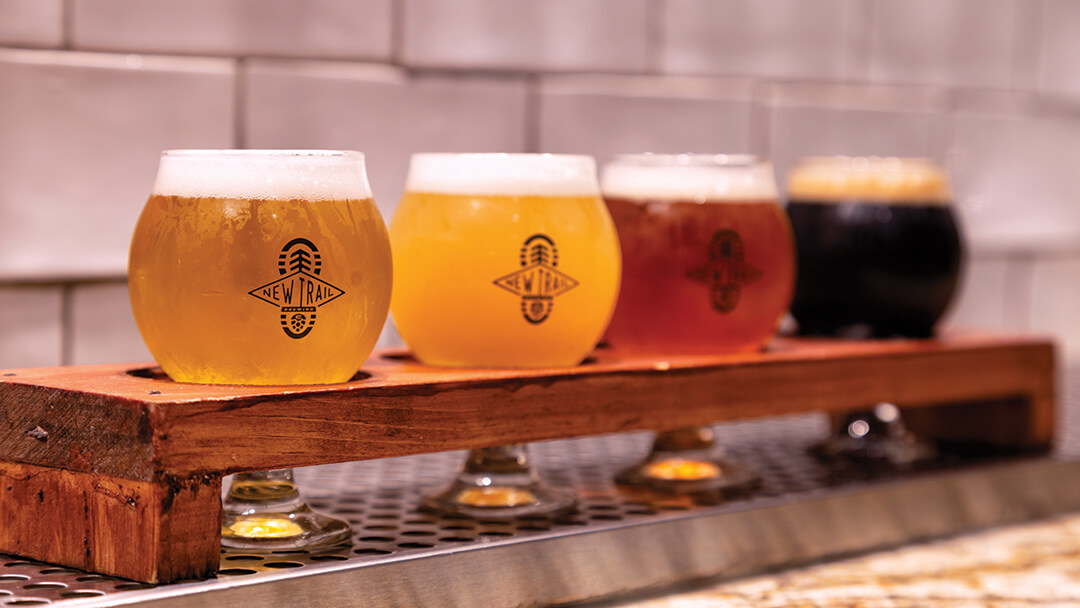 New Trail Brewing Co. beers have garnered such a following that the Williamsport brewery has doubled production in less than a year.
With more than 300 breweries and counting, Pennsylvania is a veritable playground for hopheads and malt masters. You might think another brewery opening could be a literal drop in the bucket of Pa. beer. But then you haven't met the team behind New Trail.
Just over a year old, New Trail has made some serious waves across the state as they've grown furiously since opening in April 2018. Between then and April 2019, 2,500 barrels of beer came out of the production facility in an old warehouse in Williamsport. That's more than 6,000 gallons — or 50,000 pints — of beer a month. And that's all before they doubled production capacity by adding four new tanks just before their one-year anniversary party on April 27.
More anecdotally, if you mention New Trail to any beer drinker in a region with distribution (a number that's also growing rapidly), you typically hear, "Oh, yeah, they make great beer." Their flagship hazy IPA, Broken Heels, seems to fly off the shelves, as if in defiance of its name.
So how has the new kid on the block become the talk of the town?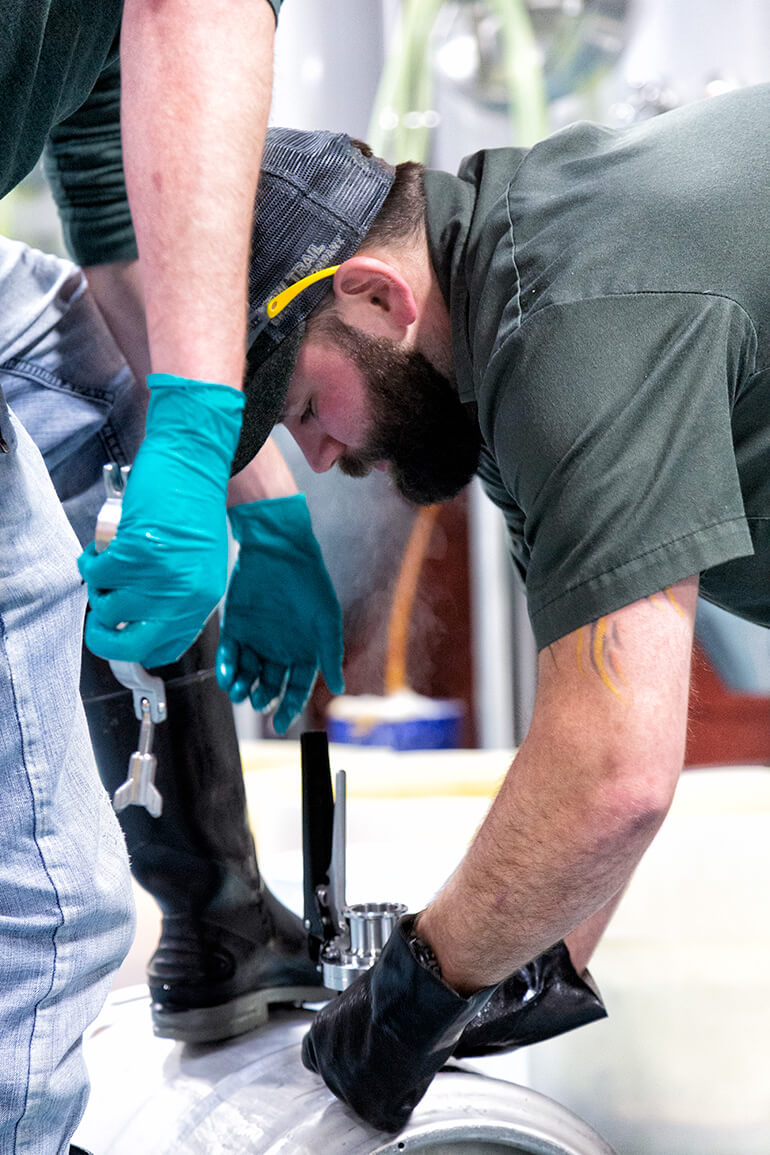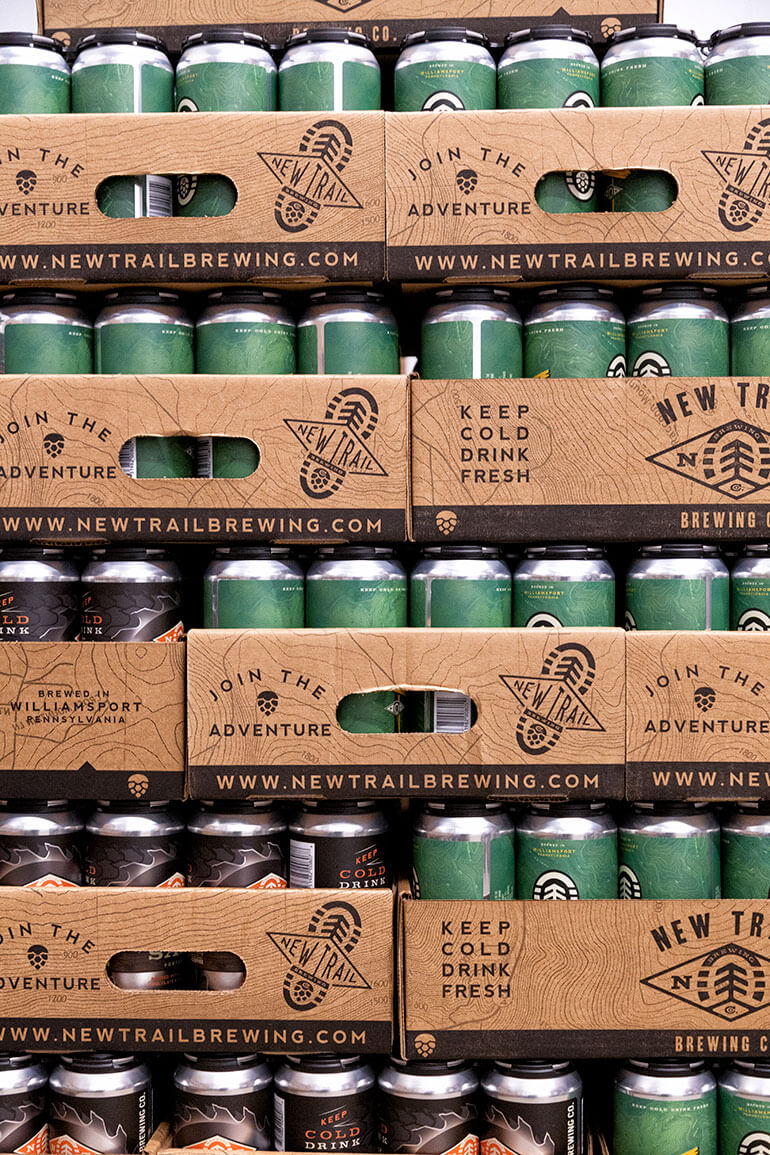 Mike LaRosa, head brewer and co-owner, had been working as a brewery consultant when he met Charles Imbro and Dave Hertwig, owners of downtown Williamsport establishments the Cell Block nightclub, The Brickyard restaurant and Stone House Pizza & Pasta.
"It was the next step for us," says Imbro. "We've been in the restaurant business for years, all the facets of it, from fine dining to nightclubs. Why not make the beer yourself? Makes sense. But up until five or six years ago you couldn't do that. They changed the laws, which enabled us to own a restaurant and own a brewery."
Imbro and his partner didn't want to draw business from downtown restaurants — but they did want to sell them beer.
"We tell everyone that's here, if you want proper food, go downtown," says LaRosa. "As much as we like them supporting the food trucks we bring in, we like them supporting the people that are buying our beer, too."
The warehouse on the outskirts of town is on the site of the former Dodge Lumber Company — logs coming off the river could be easily hauled into the warehouse for planing. For a brewery, the location is more about space that can handle beer production — and maybe a few guests.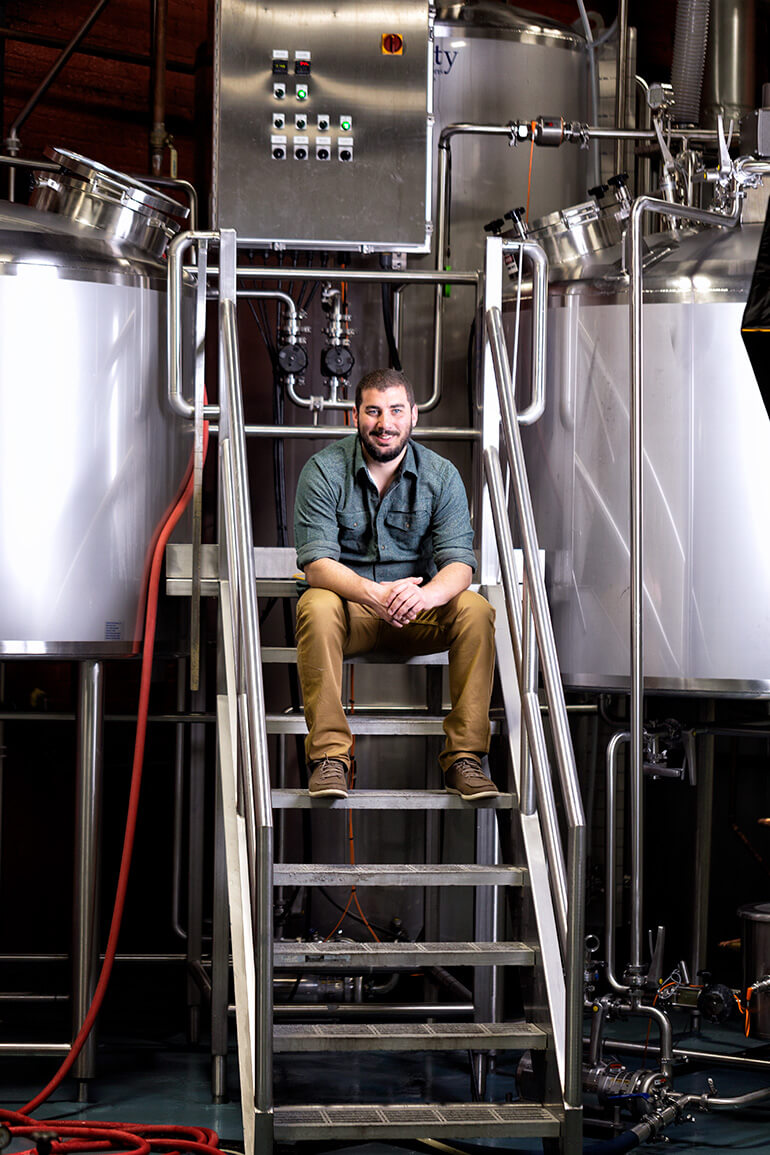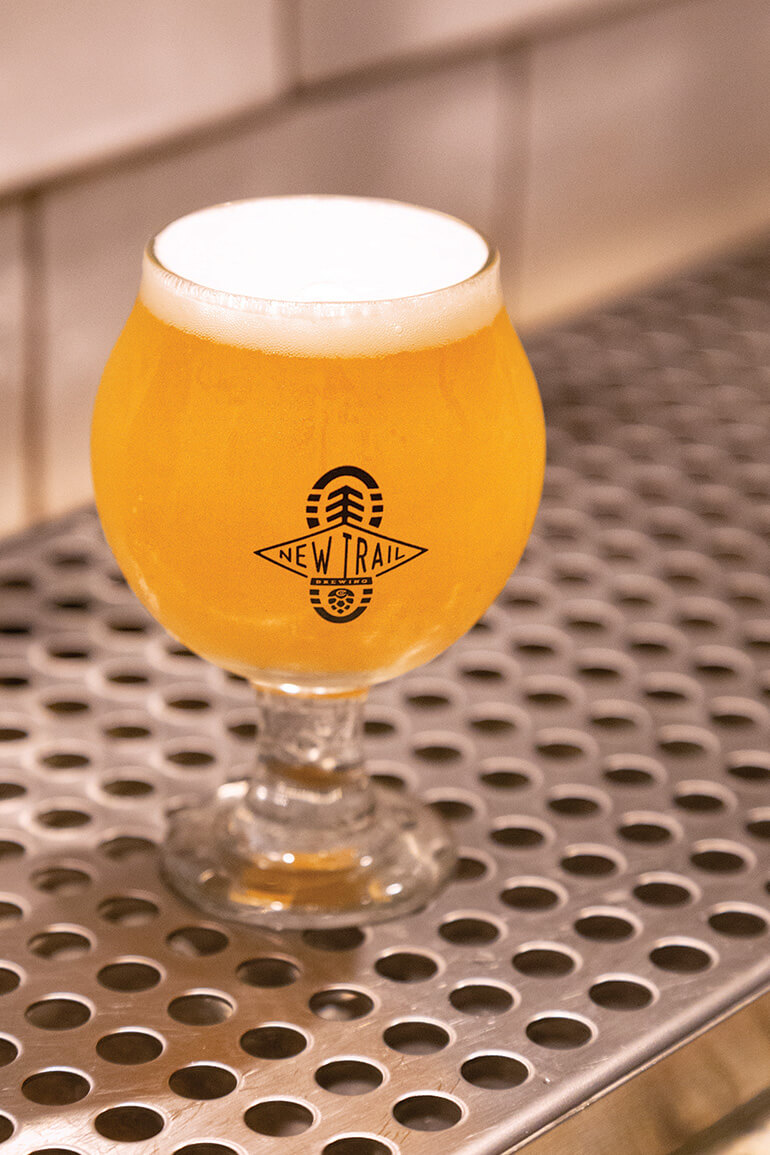 "We need the warehouse space," says Imbro, "the loading docks, a place for spent grain, all the things that happen in a production brewery."
Plus, they knew they'd need room to expand — they just didn't know they'd need it so quickly. In April, LaRosa added four new tanks to his operation, expanding his capacity from 3,300 barrels a year to 8,000.
"We thought we might grow out of it in two years, not one," he says. "You always hope for growth but this is explosive growth. We're very happy."
So are fans of the beer, who get to experience a new brew every two weeks.
"The original intention of New Trail was to focus on what we call our core brands — the Lazy River Pils, White Ale and Trail Ale — and Broken Heels was just sort of an afterthought," LaRosa says. "It was a more traditional brewery model, at least traditional a few years ago. We quickly changed that and moved into doing lots more seasonals and rotations of hazy IPAs because it's what people want."
At the one-year anniversary party in April, First Orbit, a hazy triple, marked the occasion.
Also on tap were Something Deep & Meaningful, a hazy DIPA collaboration with Imprint Beer Co. out of Hatfield; Heliotropia Bound, a Citric IPA brewed in partnership with Foreign Objects Beer; and Barrel Aged Sunrise, a Baltic Porter aged in Heaven Hill bourbon barrels and rested on coffee from downtown Williamsport's Alabaster Coffee.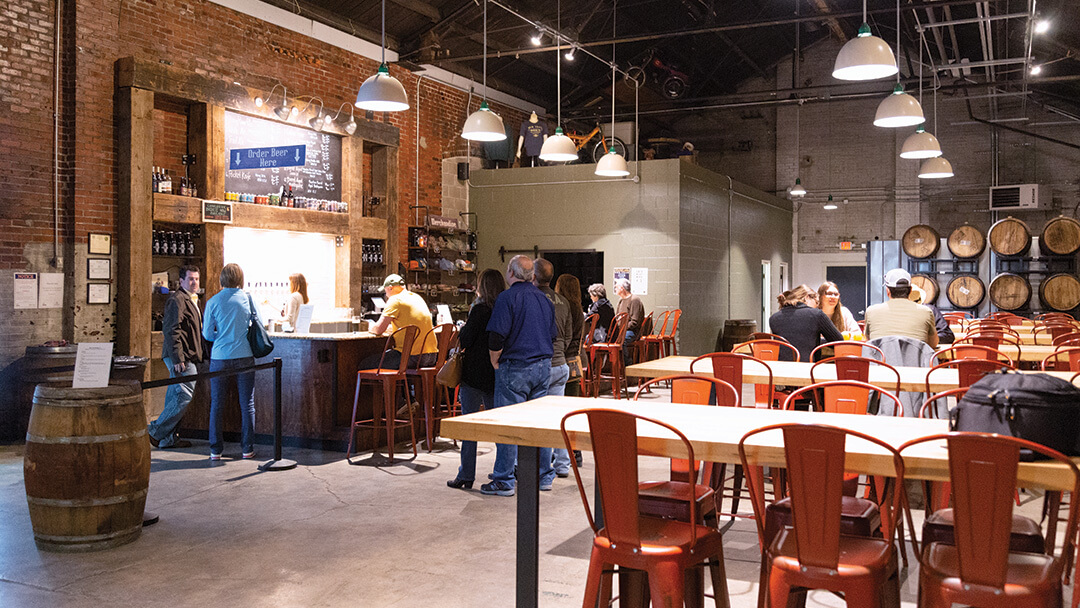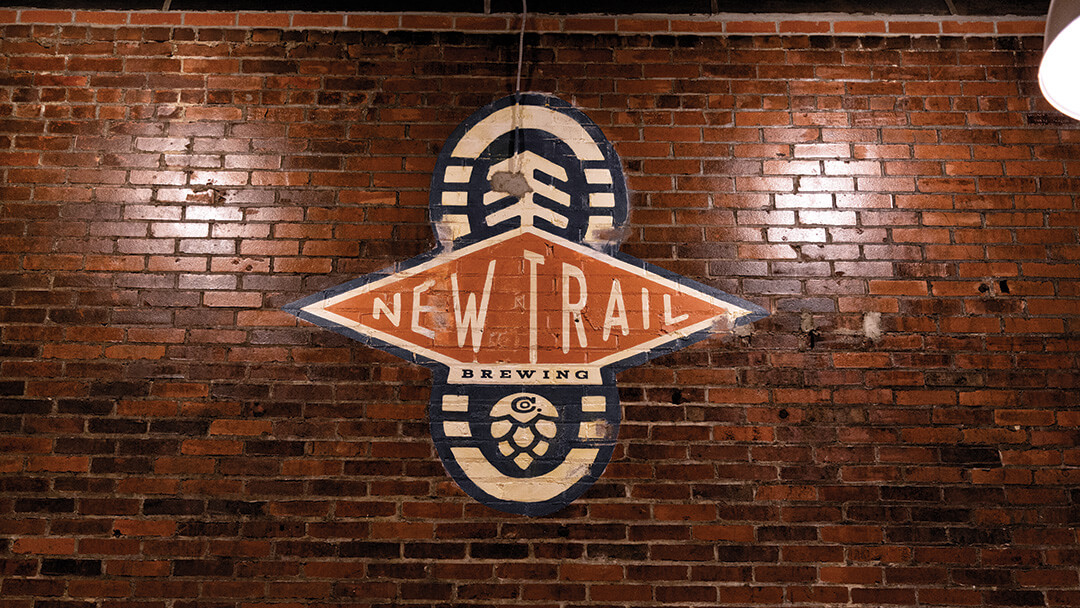 Collaborations are not just a great way to drinkers to get more interesting brews — they're also a way for brewers to share some knowledge and expand their circles.
"There's really not a lot of continuing education for brewers," says LaRosa, who still does some brewery consulting, "so collaborating a lot of times is really about exchanging ideas. Having a guy or gal come in and hang out for the day and talk about what they've been doing and what they've seen success with is really helpful."
Having been in the industry for 10 years, "you make friends," he says, and with a resume that reads like a fantasy brewery tour, LaRosa has a lot. He started at a Rock Bottom in King of Prussia before moving to Saucony Creek, Manayunk Brewing Company, Kane Brewing and finally Tired Hands. He helped build the Fermenteria, Tired Hands' second location down the street from the original brewcafe in Ardmore. "We started there with a cellar capacity of about 2,000 barrels a year and by the time I left we were on pace for about 10- to 12,000 barrels a year."
Though he loves pumping out the hazys, LaRosa most enjoys brewing darker beers.
"It's immediately gratifying," he says. "The wort smells better, the mash smells better. But what I prefer to drink is pilsner. If I could drink one beer for the rest of my life, it would be pilsner. Clean, crisp, I can sit and have 10 of them or I can sit and have one."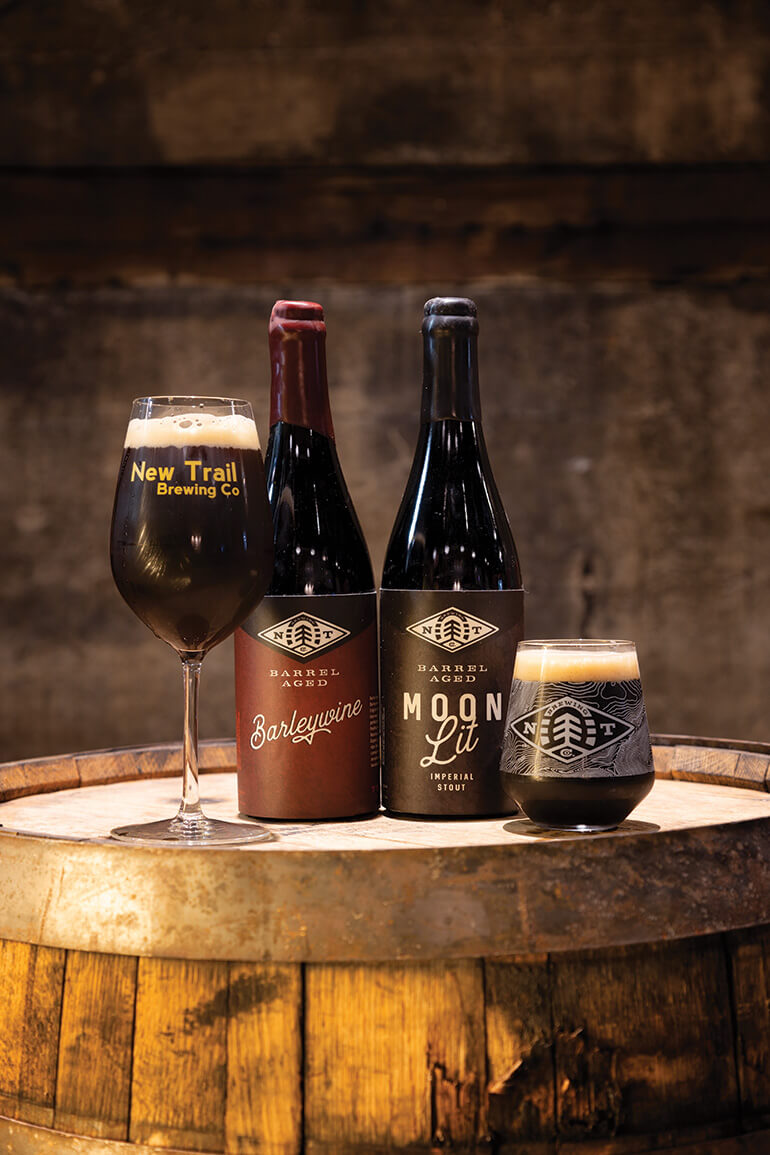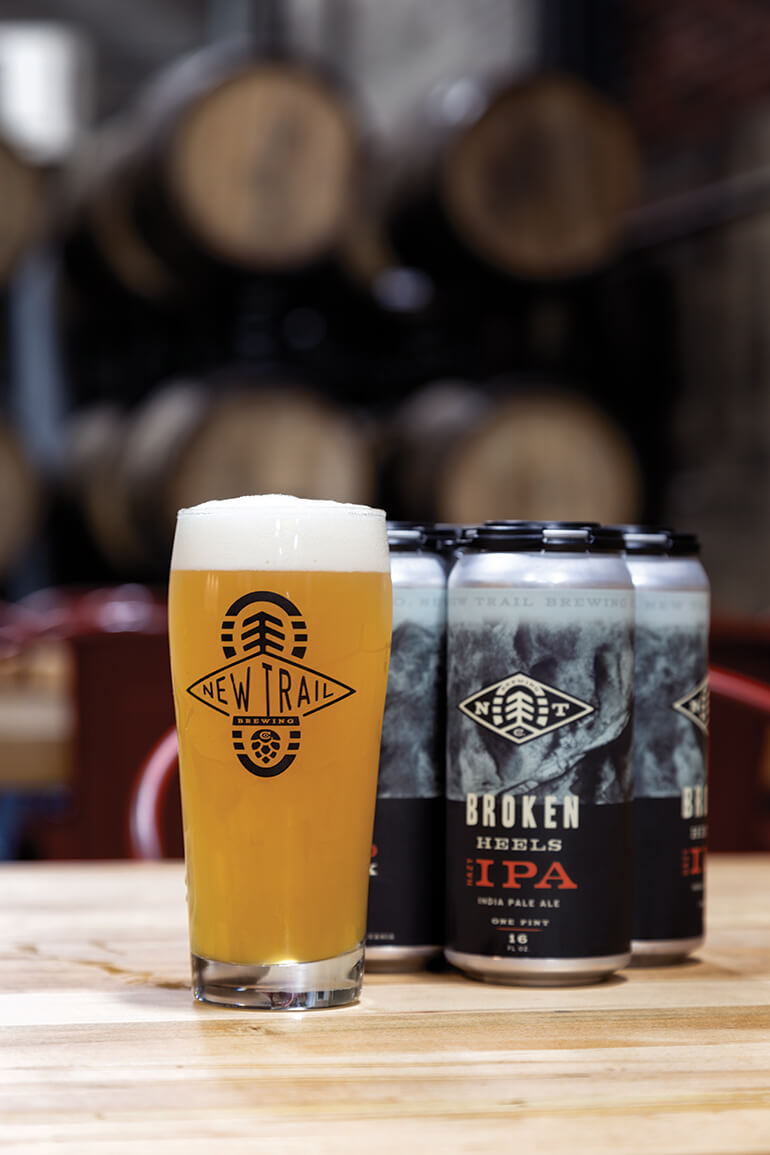 But New Trail is probably best known for its IPAs, particularly of the hazy variety. LaRosa says the cloudy, less bitter style is so popular right now because it's so easy to drink.
"It's a really agreeable beer," he says. "It's low bitterness and high aroma. A lot of times West Coast IPAs, they are an acquired taste, something you have to learn to like, whereas I think a hazy IPA is an easy thing to learn to like because it tastes often like juice, which is something that you've been drinking since you were 2. My mom drinks hazy IPA and Coors Light."
And whether or not everyone can taste the subtle differences, when you're releasing a new beer every two weeks you have a lot of room to play with different ingredients. A recent double IPA, Rained Out, was LaRosa's first foray into Sabro, a new hop introduced last year by Hop Breeding Company.
"People were saying it's got this crazy coconut flavor, and I've never gotten coconut out of a hop," he says. "We put it into this beer and, sure enough, it's like candied coconut and pineapple. It's like drinking a piña colada."
On the other end of the spectrum, the barrels in the back of the tasting room aren't just for show. The Buffalo Trace ones hold Moonlit, an imperial stout, and barrels from Heaven Hill that previously held maple syrup are now occupied by an imperial milk porter that has yet to be named.
In June, some of New Trail's releases include: No Breaks, a hazy DIPA; Broken Paddle, a hazy IPA; a Mai Tai-inspired collab with Pizza Boy Brewing Co.; and a re-release of Something Deep & Meaningful.
If any of those sound good, get to the brewery fast. Like all such beers, these are best served cold and fresh. And like summer, they'll be gone before you know it.
More from Provisions magazine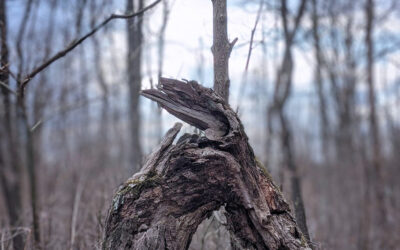 t's hard to know how to start a letter right now — nothing seems big or small enough. Our world has both drastically shrunk to our own homes and reached a new level of global connectivity. Anxiety and stress have spiked (and stayed there), but...