Meghan McCracken grew up tromping around her grandparents' Clearfield County farm, where their cow provided fresh milk and butter, her grandmother cooked with bacon fat and the young would-be chef learned how to appreciate — and forage for — truly home-grown foods.
"My grandfather was a forager. He would take us out in the woods. I remember being so small and all summer my legs were just scratched up," McCracken says. "We were constantly climbing in the woods, searching for berries, and he would dig up sassafras roots and make birch beer."
Today, McCracken is the creative chef and businesswoman behind Nomad Kitchen Food Truck, serving up locally sourced dishes that are often highlighted with international flavors. You can taste her talents at the Boalsburg Farmers Market on Tuesdays and once a month at the North Atherton Farmers Market, or experience her carefully cultivated menus at various pop-up dinners and special events around the county.
We teamed up with the farm-focused chef for our launch at Pop Up Ave on April 28 and for our first pop-up dinner on May 20 (click here for tickets). Afterwards, we sat down to ask about her food, what she cooks at home and how she puts her money where her mouth is.
How would you define the style of food you like to serve?
I love to be veggie-focused. I love colorful food, and veggies just do that. I wouldn't say 'healthy' because I do love butter and bacon, but I think the central focus of every dish that I like to make is vegetables and greens.
I like to think about a plate of food. I love to think about pairings of food together — something crunchy, something smooth. I like to think about the whole plate and the experience that I want people to get out of the food I'm creating. I love to use international spices in my food. But if I was going to make an Israeli dish, I probably wouldn't make it super traditional. I have my own take on that recipe or dish based on the things that are available here.
You've said your upbringing included things like country white bread with freshly churned butter, and bacon and eggs every morning. Did your focus shift naturally to more veggies and international flavors as you got older?
Years ago, I started eating a vegan diet. My lifestyle changed — I moved to a city and that kind of food [like my grandparents ate] wasn't available. That's sort of how I started cooking, because I started making my own food and cooking for myself. I didn't want to substitute with tofu and fake burgers. That's how I started eating more beans and more international foods.
But now I'm a single mom to a small kid, and convenience is extremely important.
Has motherhood changed your cooking style or philosophy at all?
My mom was a single mom raising two kids. She had three jobs, which is why I was at my grandparents' a lot. So I understand a lot of different pictures. People say, 'Well, yeah, I want to buy organic meat but I have $5 and I have to feed my kids.' It takes a shift in the way you think and buy and spend your money. As somebody who's making food and having to charge a certain price for it, and then understanding that certain people can't afford to buy it — that has always been tricky for me.
I definitely have opinions about food and I of course endorse whole, fresh foods, but I think that there has to be a little wiggle room for the whole picture of what somebody's life entails. I struggle with that. I don't believe in things like plastic and packages, all the emissions from the warehouses and the travel time just to get a block of ramen — which my daughter loves, by the way. But there are times when you just need to buy a box of macaroni and cheese because you have 10 minutes to feed your kids. So thinking about the whole picture is complicated, and I don't know that there's one answer.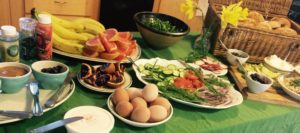 How did you learn the business of cooking and catering?
Every job I've had has been pretty rooted in food. I was an English major in college, but when I got out I started immediately working in restaurants. I worked in Philadelphia managing a restaurant and worked my way into the kitchen, moving from front of house to back of house. Then I worked for a nonprofit helping people who were on food stamps. I started a project where I was linking urban gardens in Philadelphia to food banks and churches in the area.
When I had my daughter and moved back to State College, I got a job teaching cooking classes in the nutritional sciences department. I was there for about three years and left to start my catering company.
Why did you decide to follow the food truck trend?
I was trying to figure out a way to do a little bit more than just catering. I've always wanted to do a little breakfast cafe, but I knew I couldn't really handle the overhead costs of a restaurant. So the food truck thing gave me a little more flexibility. So three years ago I bought this old contractor's vehicle and relied on a whole lot of friends and a whole lot of favors, just a lot of friends seeing my vision. You kind of have to be a bit of a jack of all trades to do the food truck thing.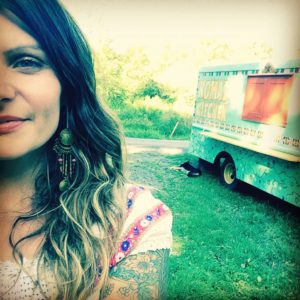 You have a new focus on trying to source from not only local farms but specifically female farmers. Why is that important to you?
Every day I turn on the radio and it's like, 'Women are making x percentage of what men are making in this economy.' It's just mind-blowing to me. And while I don't have to say 'I'm not buying from men,' I think if I want to support what I believe in, if I can put my dollars somewhere to support other women doing the same, I'm so excited to do that.
Do you have your own garden as well?
I do! So far I have planted peas, radishes, beets, spinach, pumpkins in the fall, cucumbers and tons of hot peppers. And I planted broccoli rabe because I want to try to incorporate that. I want to plant things that might be more expensive to buy and be a little bit smart about it. Like I would never plant cabbage; it takes up so much space in the garden and it's already cheap.
What does your daughter like to eat, besides ramen?
She is the food purist. She doesn't want anything mixed together. She would eat a scoop full of hummus, broccoli, plain pasta. I didn't teach her that, it's just how she eats. An apple and peanut butter, but not an apple with peanut butter.
What's your comfort food?
I just made mujadara, this Syrian lentils and basmati rice dish. You carmelize onions in tons of olive oil for hours; they turn this really delicious milky brown. You cook the lentils separately and add them in with rice and cumin and salt and pepper, and then I put sriracha all over it and eat it with Wasa crackers. I've been eating that for years. That's a thing from when I was vegan and starting to learn to cook.
What kitchen tool could you not live without?
My microplane grater. Cheese, lemon rind, fresh nutmeg, if I have a good knife and a microplane grater, I'm good to go. When I first started out I got a lot of gadgets thinking, 'Oh, this will make my life easier.' I don't even pull half of them out.  
What's the best thing you've eaten recently?
My boyfriend and I made steamed artichokes the other night. We were racing each other down to the bottom to get to the artichoke heart. And we had a roasted bottom round and margaritas. It was a really warm night and we were inspired. I was kind of going crazy over that meal.