Spring Spice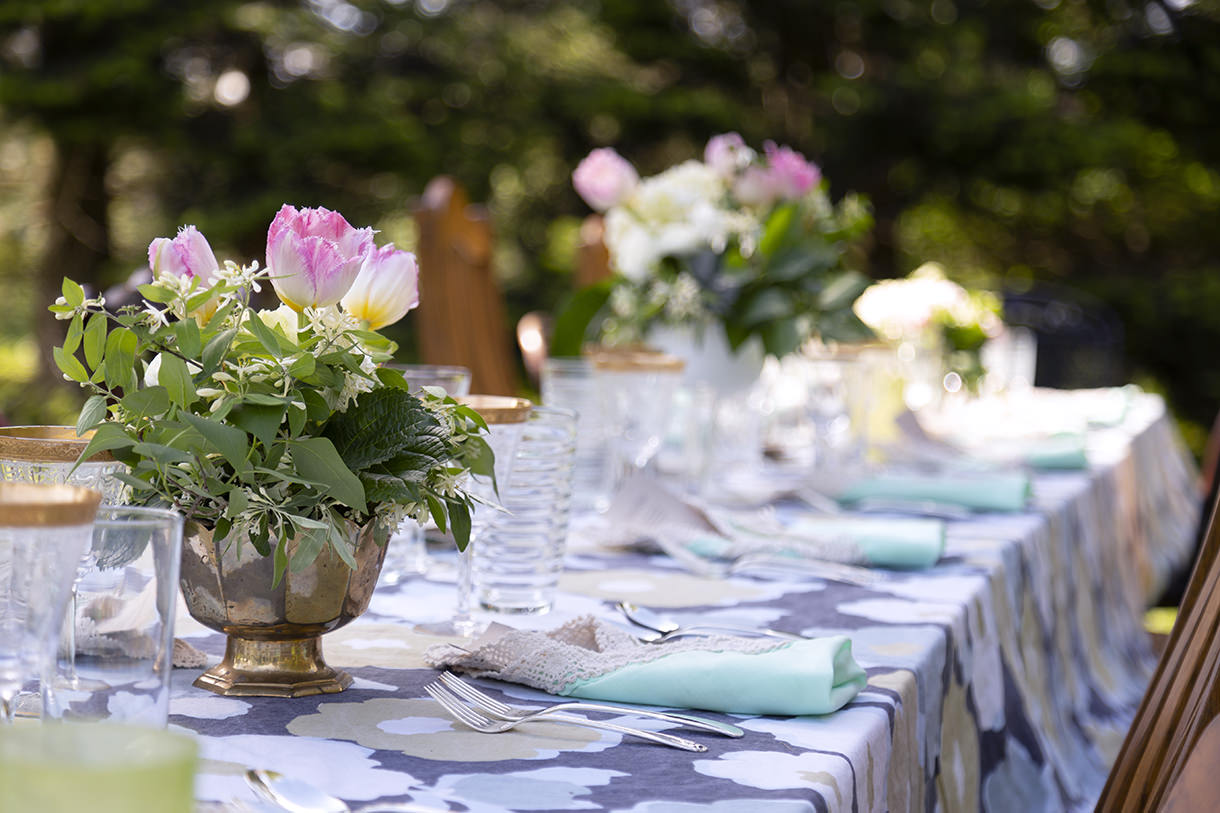 Provisions Magazine & Chef Meghan McCracken Usher in the Season to Savor
H
alfway into Spring Spice, the Provisions Magazine 6-course dinner held May 20 at Rhoneymeade Arboretum & Sculpture Garden, Chef Meghan McCracken brought out the headlining dish: locally sourced rare roast beef served with garden fiddleheads and foraged ramps, dandelions and morels. The plants on this stunning plate were growing mere steps from our communal table. "I sautéed the morels in just the raw-milk butter so you can taste the delicacy of right now," McCracken said. "Like
right
now—this is it." McCracken's dinner captured a moment in time. The baby goats are grazing, the plants are poking through the earth, and the air is thick with life. More than summer, which can feel like a sped-up hourglass, and fall, with its take-me-for-granted abundance, spring is the season to savor. It's a chance to fall in love with food and the land that produced it all over again. If each of us gets a lifetime of springs, is it ever enough?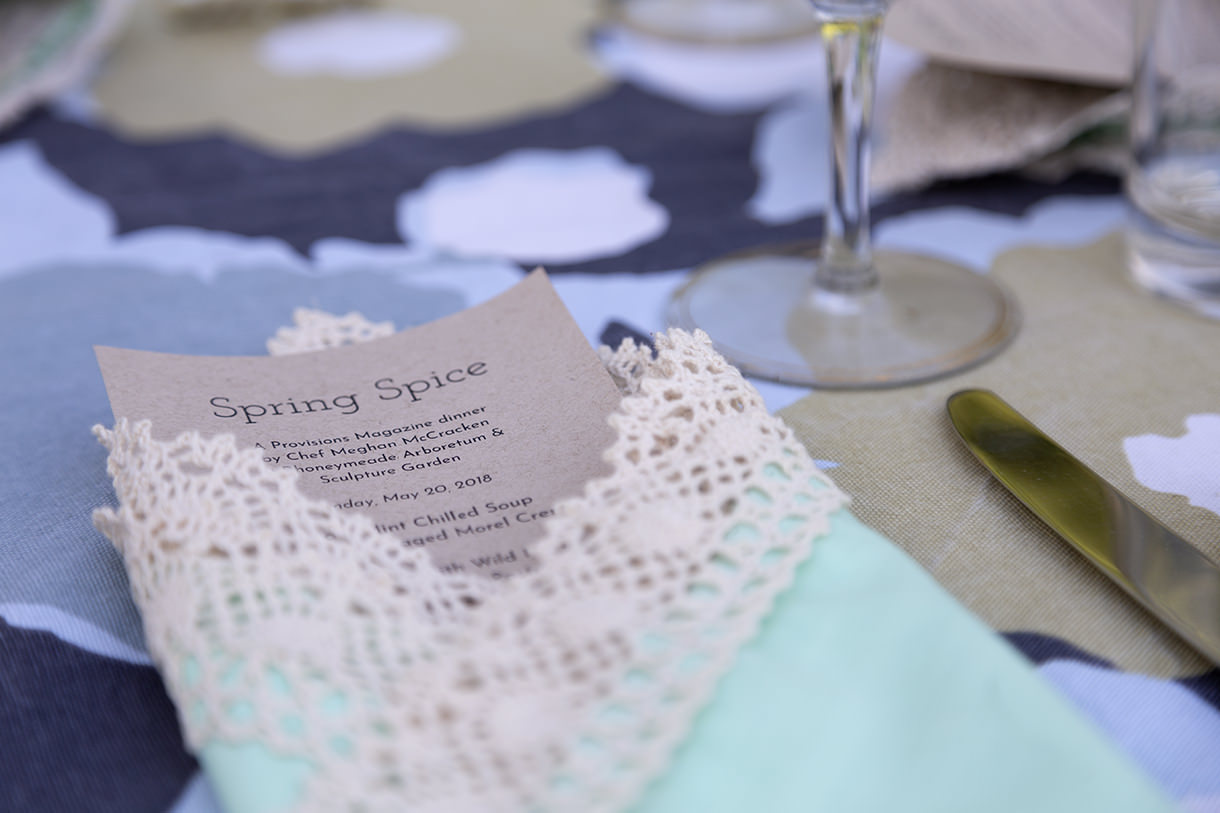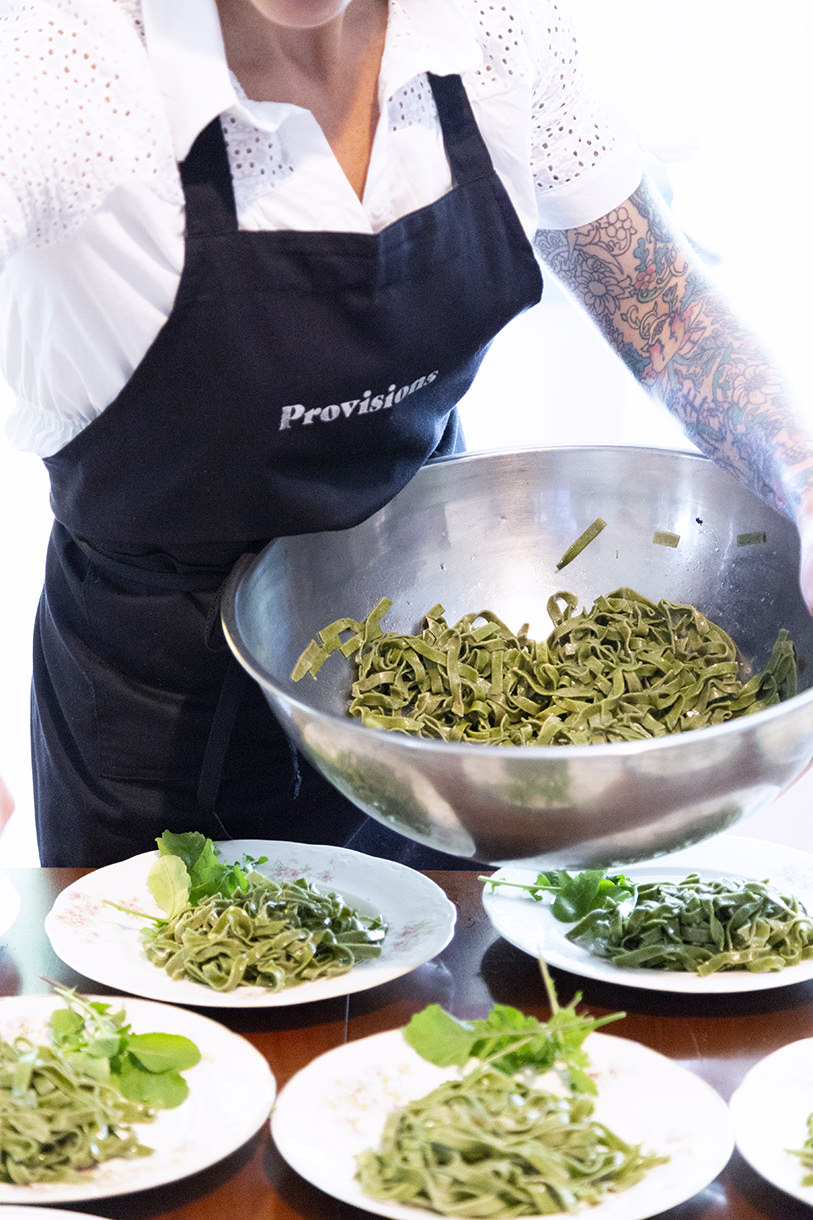 With six courses and the luxury of time to enjoy them, the Spring Spice dinner ushered in a season that teases you with flavor and textures. A piece of well-cooked, local beef will please an omnivore crowd anytime of the year, but pairing it with light and airy treasures expertly showcased the seductiveness of the season. Like a fleeting breeze that carries a whiff of a spring flower, the dandelions—picked before they bloomed and treated like capers—offered a mere caress, while the pickled fiddleheads served as the perfect foil for the buttery meat.
And the morels? They were a conversation starter. "The texture is interesting," one of my tablemates remarked. "It's fuzzy—but in a good way."
That is, in a way that evokes rich, buttery steak. These shrooms were something special and I wanted more. Sadly, my mushroom-abstaining friend decided that she did, in fact, like morels and didn't want to share.
Like the giant, brain-like morel that Rhoneymeade executive director and botanist James Lesher unearthed before our dinner began, our culinary adventure was the direct result of stewardship of the land. So before we even took our seats at the communal table, Lesher took us on a tour that highlighted some of the wild plants that will grow on this historical site for countless generations. In 1986, three years before Rhoneymeade was established as a private foundation, the then-owner of the property and farmland signed Clearwater Conservancy's first conservation easement in Centre County to permanently protect the land from development.
The result is a plant sanctuary. One of the pawpaw trees we passed on our walk was transplanted from the banks of the Juniata shortly before a highway improvement project would have killed it. Carrying glasses of a gin cocktail made with local rhubarb syrup (see below for Rhubarb Spring Fling recipe), Lesher gave us a quick education on the pawpaw, a temperate version of a tropical fruit. In its current stage it had fetid flowers that we all agreed smelled like stale bread. But that smell serves a purpose: it attracts flies that are the prime pollinators. Have a pawpaw that isn't bearing fruit? "People say you should throw a dead possum under it."
Moving through the fields, Lesher pointed out a hazelnut tree with convoluted husks and stems of Jerusalem Artichokes, a native tuber with a nutty flavor. He dug up ramps, told us how we could julienne burdock roots and pickle them with vinegar and introduced us to Harry Lauder's Walking Stick, a contorted filbert named after the eponymous entertainer who carried a twisted walking stick on stage. From the filbert we moved to a quince tree. Before the invention of commercial pectin, Lesher said, you could gel fruit by adding quince to a recipe. We would have seen more morels, but McCracken was too quick. She had already scooped them up for our dinner.
Back at our tables, we were served a first course of pea and mint soup followed by spinach fettuccine with wild nettle pesto (the same pesto that was a hit at the Provisions Pop Up Ave demo in April), McCracken's homegrown arugula, and local organic bacon from Over the Moon Farm, which McCracken says "makes the best bacon in the world."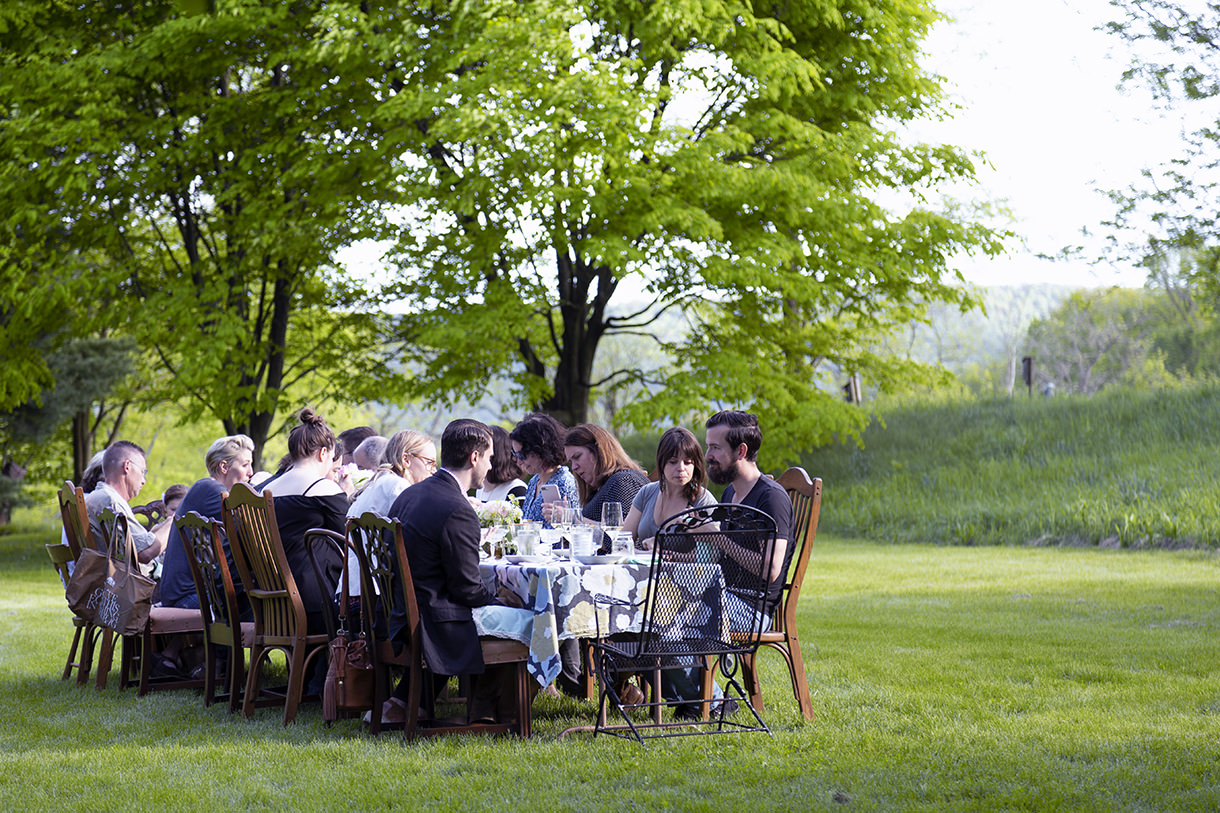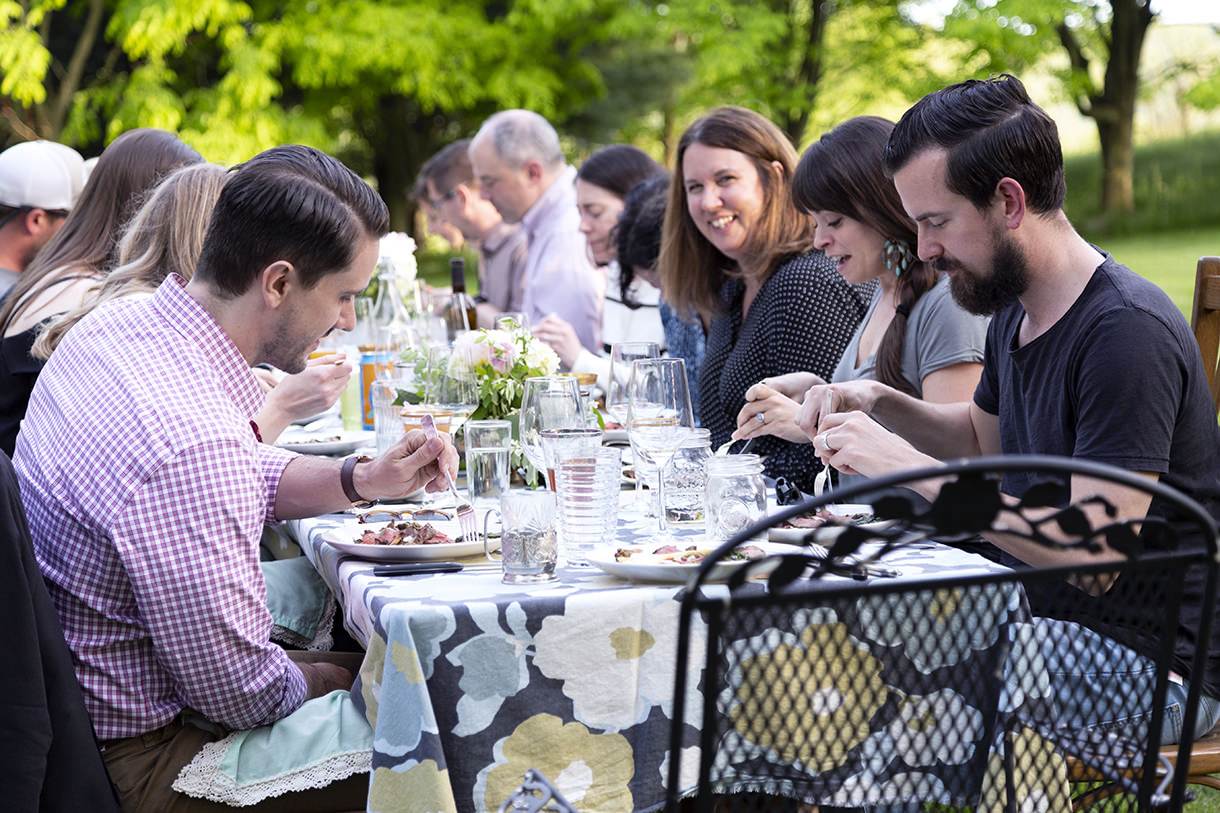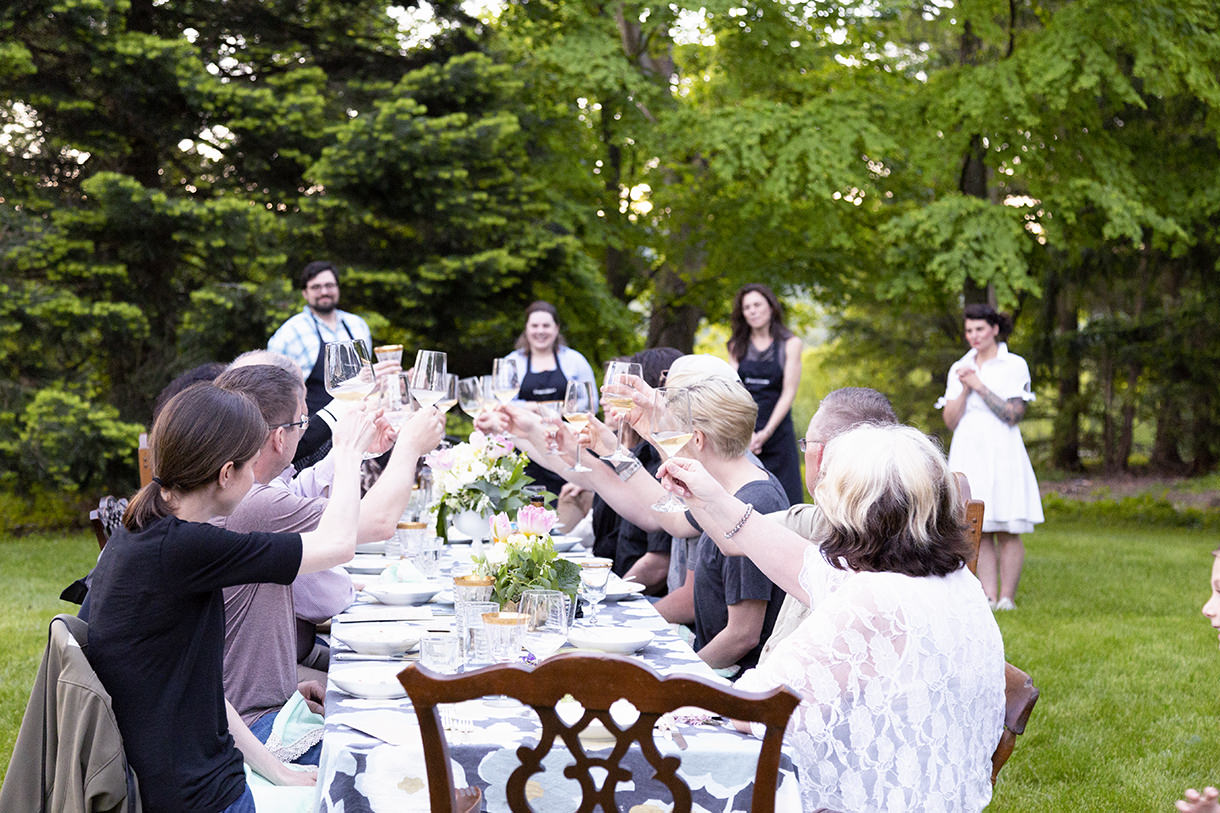 If there was any doubt that the food was fresh and local, McCracken's narration of her on-the-fly adjustments made it clear that the food was picked, foraged, and prepared in the days and moments that preceded its gorgeous presentation on our plates. For dessert, just minutes before it was served, she pulled some copper bowls from the freezer and made heavenly whipped cream. Inspired by the quality and freshness of her raw ingredients, she decided to skip the sugar. "It's so sweet on its own," she said. "It just felt wrong to add sugar." I would have happily eaten that cream on its own for dessert, but it was accompanied by homemade rhubarb ice cream with a lavender "South Philly-style" pizzelle. The rhubarb ice cream paired perfectly with a surprise pour of cava, which was followed by an impromptu toast. We had made it to the end of our six-course meal, but we lingered in the evening air, hoping to stretch a moment in spring, in a gorgeous Pennsylvania setting, for as long as we possibly could.
Rhubarb Spring Fling
Ice
1 oz. Faber Gin
2 oz. rhubarb syrup
2 Tbsp. local wildflower honey
1 Tbsp. lime juice
1 oz. Tröegs Crimson Pistil IPA (or other similar beer)
Splash of seltzer
Fill glass ¾ full of ice; add to blender and combine with gin, syrup, honey and lime juice. Pour blended drink back into glass and top with beer and seltzer.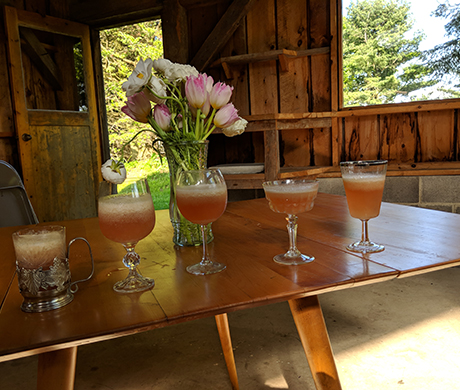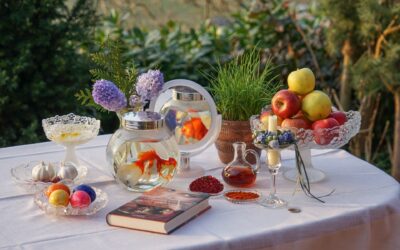 When I proposed writing a piece on the Persian New Year, which coincides with the spring equinox and which we celebrate every year in homage to my husband's Iranian ancestry, I was excited. We have been renovating our house — the work is still ongoing and many things...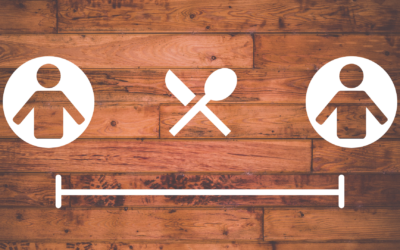 As the oft-quoted Mr. Rogers' quote instructs, "Look for the helpers." Local businesses and organizations are making sure our community doesn't go hungry.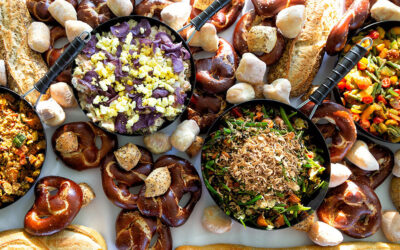 The event was a fundraiser for the Community Cafe at St. Andrew's Episcopal Church and featured food by Chef Zach Lorber and his Culinary Arts students from the State College Area High School.