Spritz and Sip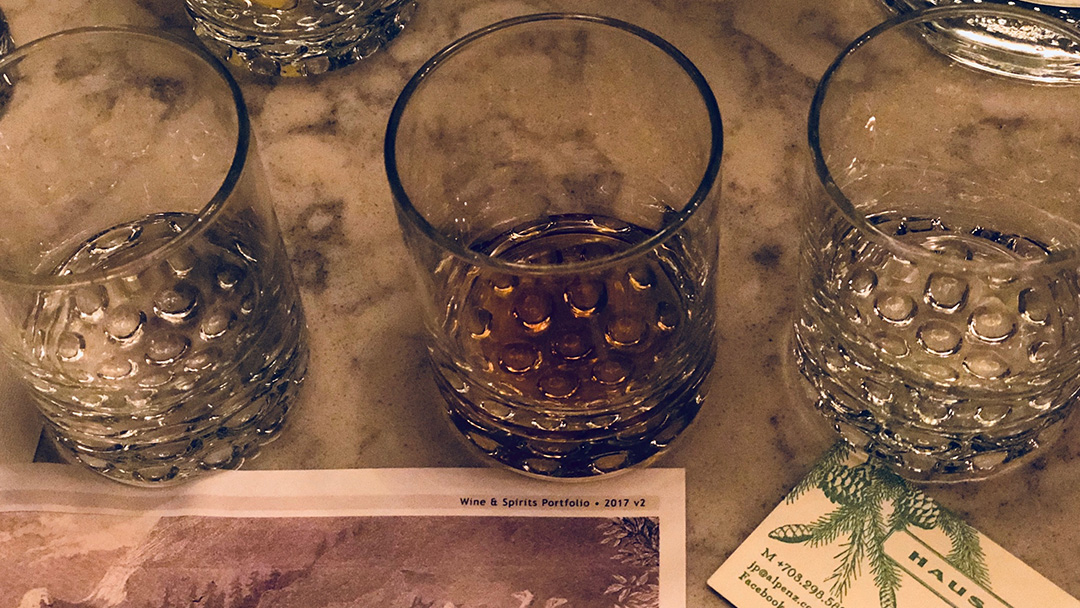 Cocktail tasting event at Ale House is a fruitful, educational experience
"D oes everyone know how to properly express an orange peel?"
Jake Parrott picked up a slice of peel, holding it with two fingers so the orange side—not the pith—was facing his other hand, and gently bent it so the tiniest amount of oil spritzed his skin. The nine people gathered at the table followed his lead, inhaling the uplifting scent of citrus.
But we were really here for the kind of aromatherapy that's delivered in a cocktail glass.
At the beginning of April, the American Ale House hosted Parrott, billed as an "expert mixologist," for a cocktail tasting complemented by small bites from the kitchen.
Our happy group of nine, including a bartender from Happy Valley Brewing Company, sat at a high-top table tucked inside a private dining room.
(Note to Ale House eaters: While you can book the "Chef's Tasting Table" for $50, ask if it's free the next time you show up with a large group; you might score the table without the booking fee.)
In front of each of us was a set of three highball glasses that would feature five flights. "Don't finish one of anything," Parrott cautioned, pointing out that the third glass was our "dump."
When it comes to cocktails, I regard them with the same level of respect I give my food. I want interesting, high-quality ingredients and a story that goes along with them. Call it a drink if you want, but it's all part of a well-crafted meal.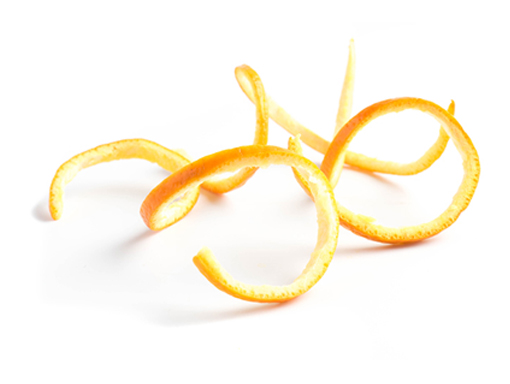 Despite its billing as a "cocktail tasting," the Ale House event featured drink components—the wine, spirits and liquor that most of us have experienced as part of a martini or other drink recipe. Parrott works for Haus Alpenz, importers for the "adventurous palate." Like a farm-to-table restaurateur admiring fresh-from-the-field heirloom tomatoes, Parrott handled his bottles with reverence. He was a visitor from an obscure planet—far from "Big Liquor"— where customers believe in savoring and tasting their alcohol and bartenders are bold enough to steer you toward a drink that isn't in your repertoire.
Like vermouth—served on its own. Parrott filled our first two glasses with the fortified wine I knew from my dirty martini and told us to add a spritz from an orange peel. (Parrott takes orange peels very seriously. One of his recent tweets reads, "Citrus peels in Tupperware. #WhatImKnownForIn4Words.")
I took a sip of the clear sweet Dolin Blanc vermouth, then tried it again with a few diced strawberries. It was a surprisingly delightful aperitif—sweet, but not cloying. I stopped at the third sip. I had a lot more to taste.
The opening drink suddenly made food very necessary. Fortunately, the chefs were generous with the food. Two different types of crostini—chicken pate topped with a dollop of chutney and a wild mushroom finished with blue cheese—paired perfectly with the easygoing vermouth.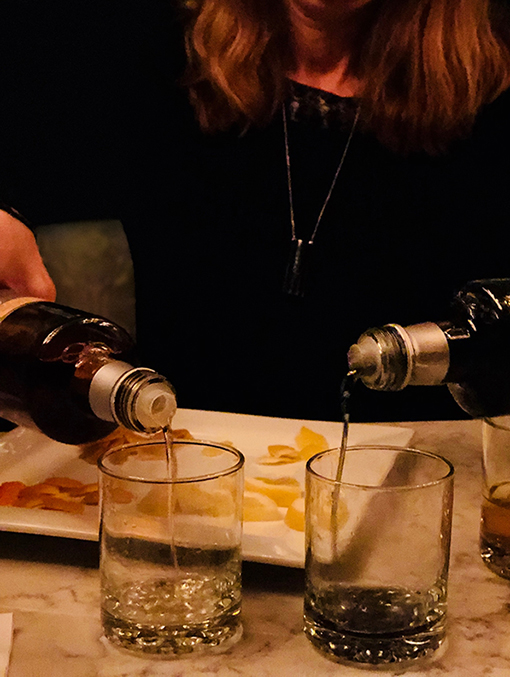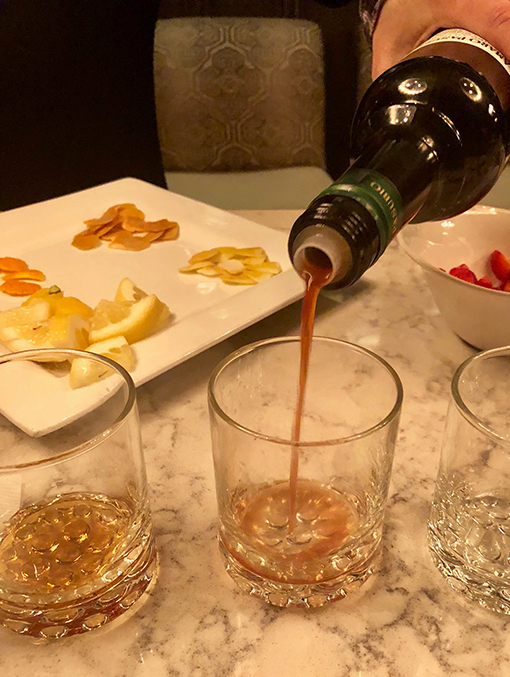 Sustenance provided, we moved on to Amaro Pasubio, a wine-based amaro (the Italian word for "bitter") that dates back to the early 20th century.
"What do you taste?" Parrott asked. This red bitter is infused with pine and, surprisingly, rhubarb. "Rhubarb is the only botanical that's smoky tasting," Parrott said with authority.
When I asked if we can find these bottles in State College bars, Parrott recommended Local Whiskey. (The following week I spotted Cardamaro Vino Amaro, another amaro we tasted, at Local Whiskey and learned that the bar hosts a Sunday late-night amari happy hour with half-priced 1.5-oz. pours from 10 to midnight.)
Next came a stunning violet liqueur, followed by gin and rum. My "dump" glass runneth over as I attempted to make it through all five flights—no small feat for someone with the alcohol tolerance of a 21-year-old girl.
As the "official" program ended, my friend and I ordered the "Bark & Bite," a cocktail created for the evening. As most of the guests cleared out, we lingered over the smoky rum and tonic and listened as Parrott, a sales rep from one of his distributors and another lingerer traded insights.
Parrott told us to try grapefruit in our next gin and tonic. (Bonus: it's prettier.)  We debated ginger beer and learned about Barritt's, the preferred ginger beer for one of the bartenders in our group. Created in Bermuda in 1874, this ginger beer is available in the U.S. via North American Beverage Co., a family-owned business based in Ocean City, NJ.  
"Get the bottles," Parrott said. "The cans use corn syrup."
The following week, I hit the North Atherton Wine & Spirits store and, for the first time in a while, confidently walked by the wine section. Among my purchases was a bottle of Dolin Blanc vermouth. I brought it to a dinner party, along with a bowl of diced strawberries, and smiled as everyone raised their eyebrows, a bit skeptical.
Be sure to refrigerate whatever's left over, I told my host, imparting some of my newfound vermouth knowledge. Oxidation will ruin it.
We sipped the vermouth while our host ladled buckwheat batter onto a buttered crepe maker. By dessert, another guest had mixed it with tequila. Post-dinner, the bottle returned to the table—this time as an after-dinner drink.
I left before the final drinks were poured, but I'm betting the bottle never made it to the fridge.
Keep your eyes out for more special events from the Ale House; this is the first of more to come.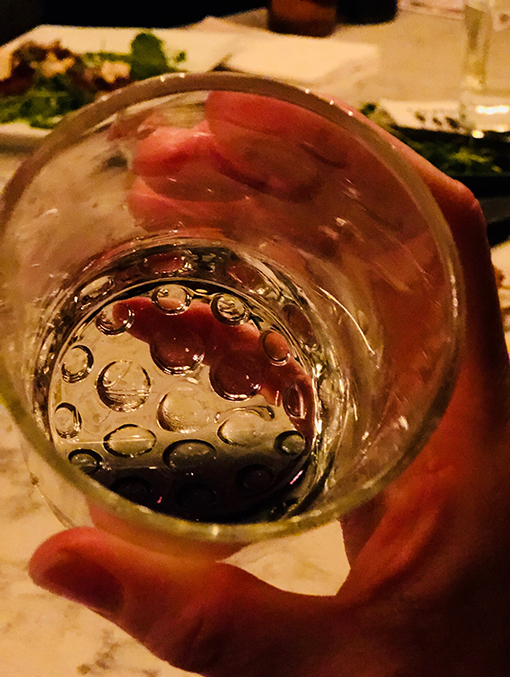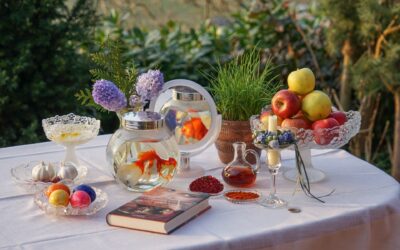 When I proposed writing a piece on the Persian New Year, which coincides with the spring equinox and which we celebrate every year in homage to my husband's Iranian ancestry, I was excited. We have been renovating our house — the work is still ongoing and many things...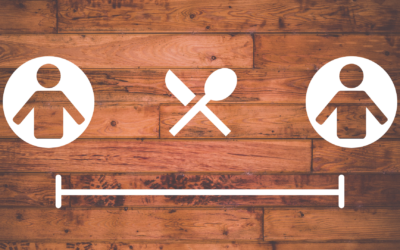 As the oft-quoted Mr. Rogers' quote instructs, "Look for the helpers." Local businesses and organizations are making sure our community doesn't go hungry.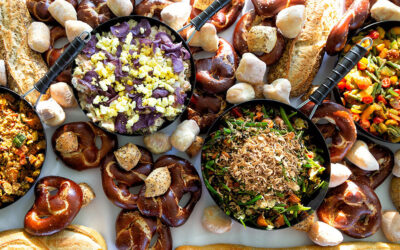 The event was a fundraiser for the Community Cafe at St. Andrew's Episcopal Church and featured food by Chef Zach Lorber and his Culinary Arts students from the State College Area High School.