Tis the Season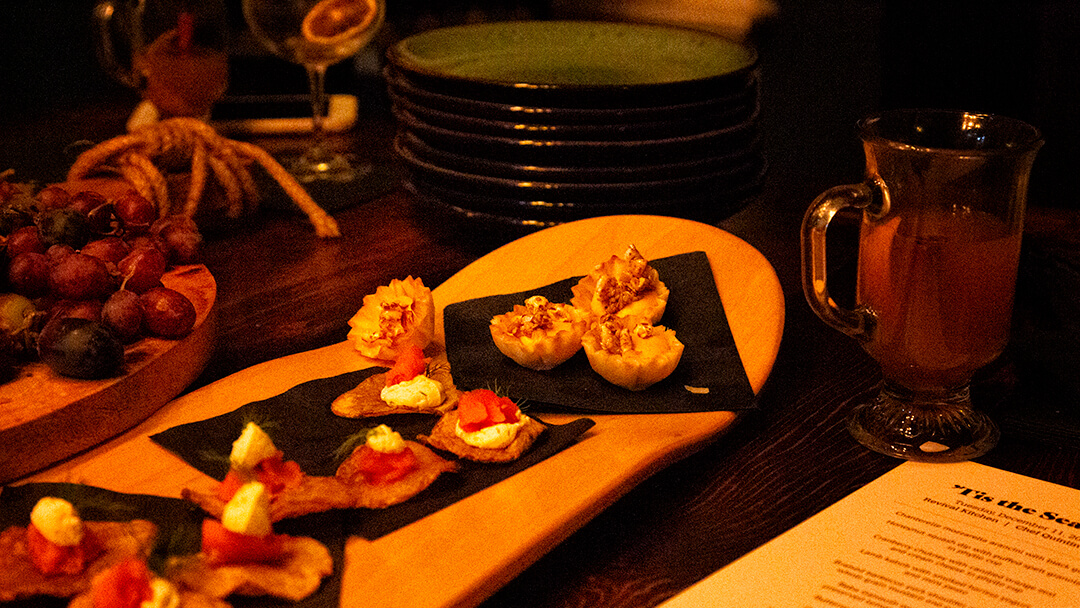 Chef Quintin Wicks gives us the best gift of all—a peek at the new Revival Kitchen.
Eating at Revival Kitchen is like going to dinner at a friend's house—a friend who throws fabulous parties, transforms local food into inventive dishes and cultivates the kind of cozy-chic setting you'd see on home and décor sites.
After reopening Revival on Nov. 30 and quickly booking its 5-course tasting menu for the month of December (they are now booking tables for March), owners Quintin and Liz Wicks partnered with Provisions in an event that gave fans a peek at their experiment in community and local food.
"We're super excited to get back to cooking," Chef Quintin said on a brief respite from the kitchen where he and his staff added dollops of black garlic to chanterelle mozzarella arancini balls and skewered heavenly bites of pork belly.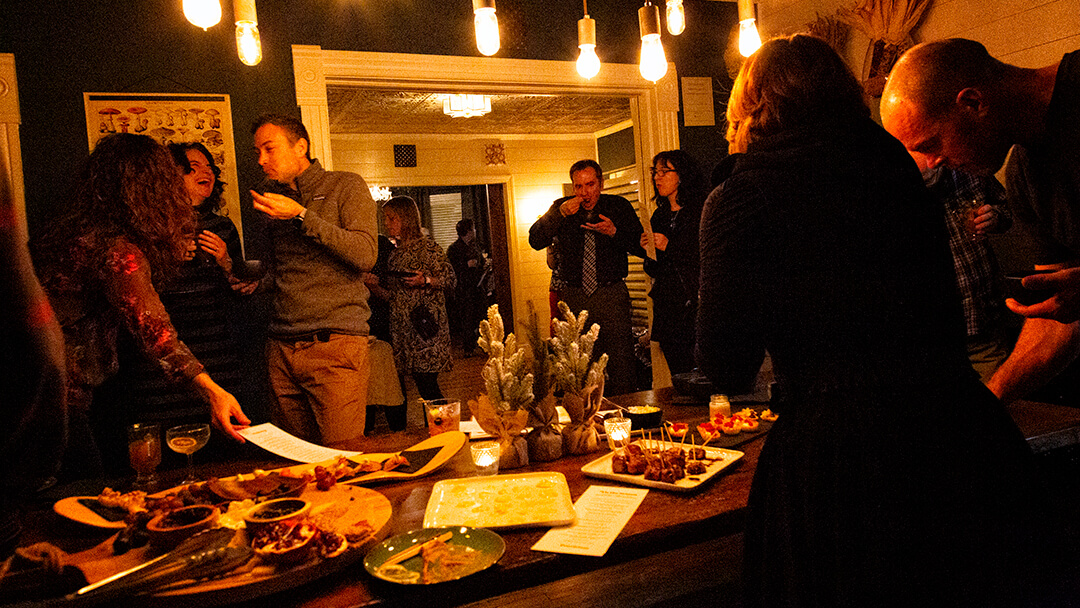 With meat from Rising Spring and ingredients from a dozen different farms and producers, 'Tis the Season proved that you can eat seasonally and quite well year-round in central PA. All that's needed is an appreciation for the land that's outside your door. Sure it would be nice to have fresh tomatoes in winter, but as the song goes, "If you can't be with the one you love, love the one you're with."
This time of year that means roots. Quintin wrapped speck around sunchokes, a native tuber with an almost creamy texture that had folks talking. Otherwise known as Jerusalem artichokes, they are nature's never-ending gift. A blog post from Penn State Extension Master Gardeners had this to say about the tuber: "This plant is rather easy to grow, and practically grows itself."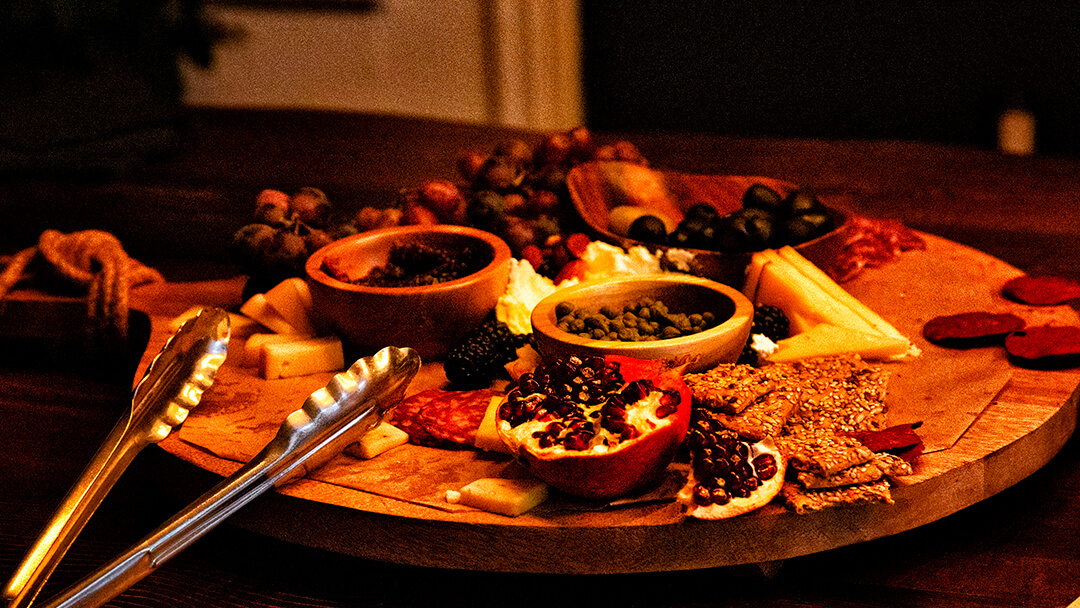 Two favorites on the substantial menu of passed and plated "small" bites  included the Key Farm beef sliders with horseradish mayo and garlic scape pesto and the braised barbecue pork shoulder served in individual bowls with sauerkraut, whole grain mustard and potato foam.
The foam provided a touch of drama and mystery as folks tried to decode its origin. "I feel like I'll never be able to eat another potato again if it isn't in foam," remarked Deirdre O'Sullivan, who added her own panache to the evening with a charming cocktail dress that she last wore at her wedding six years ago.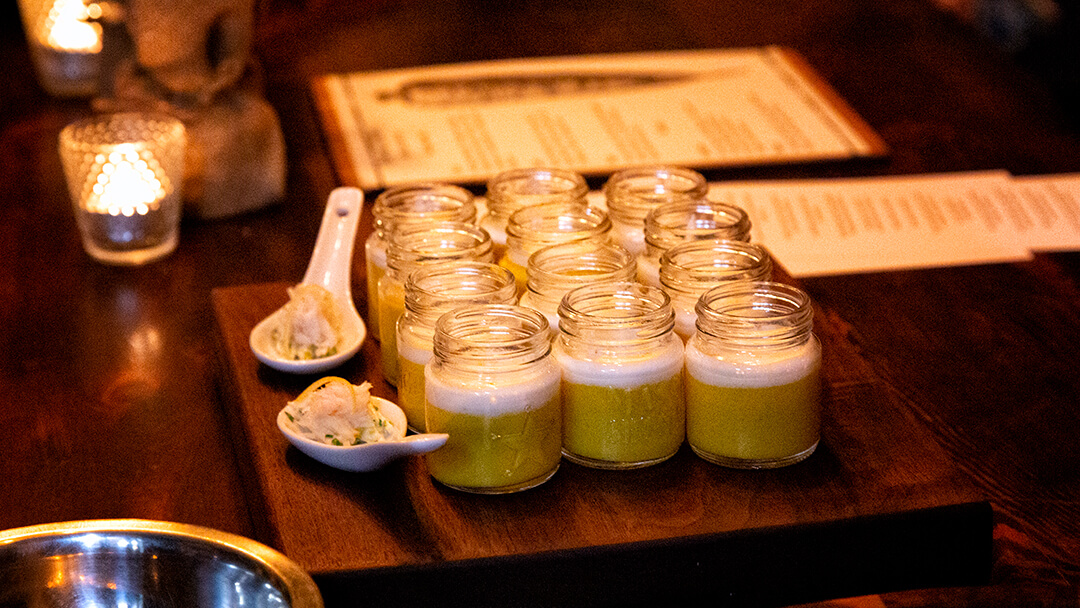 Dish after dish emerged, served on fun plates, boards and even a skateboard. The presentation reminded me of the first time I met Liz and Quintin. I was judging the chef's competition at the Boalsburg Farmers Market and marveled at the unusual serving platters they used to display their food.
Tim Riefel of Local Whiskey complemented Revival's cooking, taking his characteristic inventive cocktails on the road with a station featuring four different drinks, including my favorite: The Fig Revival: Figenza Vodka, winter spice syrup, lemon juice and brut Champagne.  This one is going on my Christmas menu.
About 40 people filled the romantic space, most of us hanging in the dining room that offered a front-row seat to Quintin's kitchen magic. As he piped sweet potato mousse onto flourless chocolate cake and carried bowls of birch beer kisses to our table, we offered up the culinary equivalent of a cheer by licking every last morsel of the previously delivered dish from our fingers.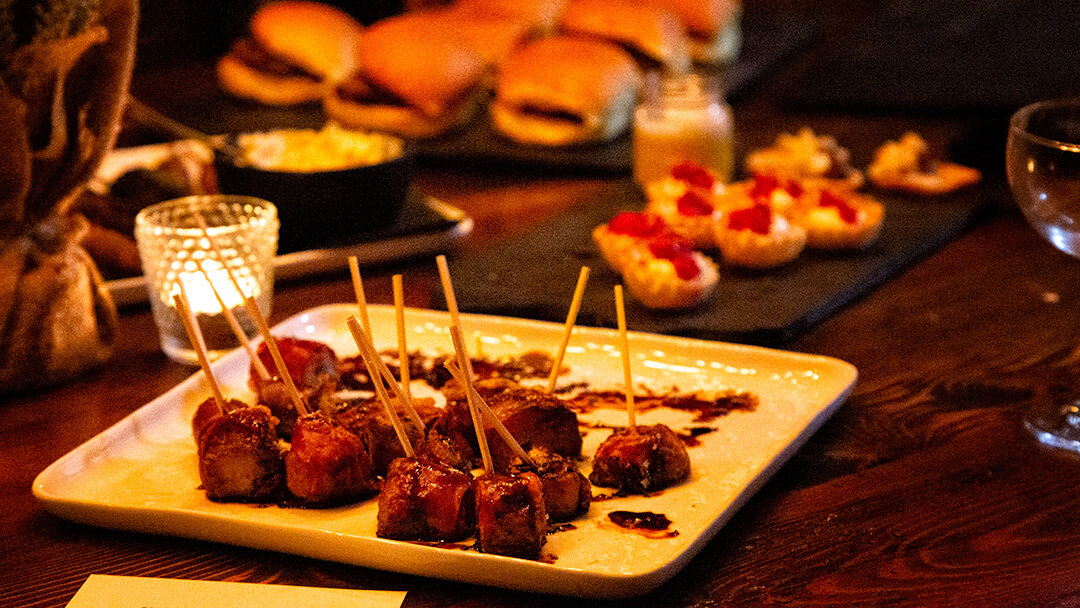 I wanted to eat it all, but sadly I couldn't. (If there's a class that teaches you how to expand your stomach, I want in.) We spent the entire ride home talking about the food, and by the time we arrived in State College, we wanted more.
And then I remembered the soup. Earlier that week, I had placed an order on the Friends & Farmers Online Market, which recently added Revival as a vendor. The same butternut squash soup served in shooters at the Provisions event was waiting in my refrigerator (!!), part of a recent order from the Online Market. The soup stars roasted butternut pureed into a velvety texture, and topped with cider compressed apples, smoked labneh yogurt (strained yogurt that has a thicker consistency) and pumpkin seeds.
Now if I only had one of Revival's adorable vessels from which to sip it.
Ingredients for this dinner were sourced from these local farms and producers:
Byler Goat Dairy, Belleville, PA • Clover Creek Cheese Cellar, Williamsburg, PA • Cow-A-Hen Farm, Mifflinburg, PA
Esh's Orchard, Milroy, PA • Hostetler's Naturals, Milroy, PA • Jade Family Farm, Port Royal, PA
Maine Bay and Berry Seafood, State College, PA • Mount NitaNee Kombucha, Millheim, PA
Patchwork Farm, Aaronsburg, PA • Rising Spring Meat Co., Spring Mills, PA • Stone Meadow Farm, Woodward, PA
Tait Farm Foods, Centre Hall, PA • Wild For Salmon, Bloomsburg, PA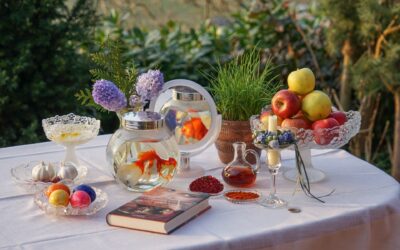 When I proposed writing a piece on the Persian New Year, which coincides with the spring equinox and which we celebrate every year in homage to my husband's Iranian ancestry, I was excited. We have been renovating our house — the work is still ongoing and many things...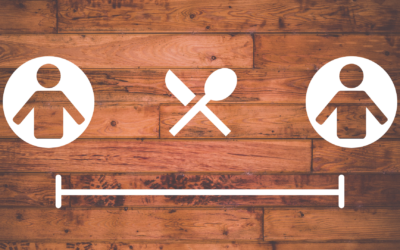 As the oft-quoted Mr. Rogers' quote instructs, "Look for the helpers." Local businesses and organizations are making sure our community doesn't go hungry.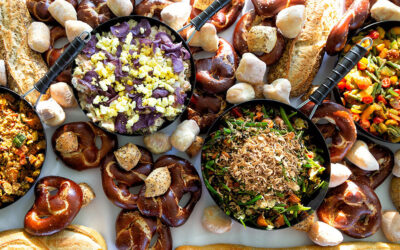 The event was a fundraiser for the Community Cafe at St. Andrew's Episcopal Church and featured food by Chef Zach Lorber and his Culinary Arts students from the State College Area High School.